Your Limit is Five Projects
Breaking News: You can only handle 5 projects at a time.
New research out of University of Liverpool reports on analysis of 9,649 data points and it's showing that when you get beyond 5 projects, you start to lose your mind and burn out.
Isn't that incredibly helpful information?
Or am I the only one that finds comfort in being data-driven?
5 projects at a time. That's it.
So here's how I'm using this idea to plan for an ever calmer, more sustainable 2023.
As usual, I made my grid for the year, blocking out each month in a 6 x 2 matrix so I can plot out my projects and anticipated income.
In previous years, I'd just cram each month's square with all the projects I committed to and their associated revenue so I could track my monthly dollars and see the balance of my work across the year, on one page. Helpful, to be sure.
But this time around I made an adjustment: Each month is now a numbered list, 1 to 5.
Each workshop I book will fill one spot. Each consultancy. When the 1-5 has been filled for a month, I make a little x to show it's full. Then I tell clients "Oh sorry, May is booked. My next opening is in June."
And when I can see the whole year like this, I can also plot out unpaid events I know I'll have.
For example, here's my Fall 2023: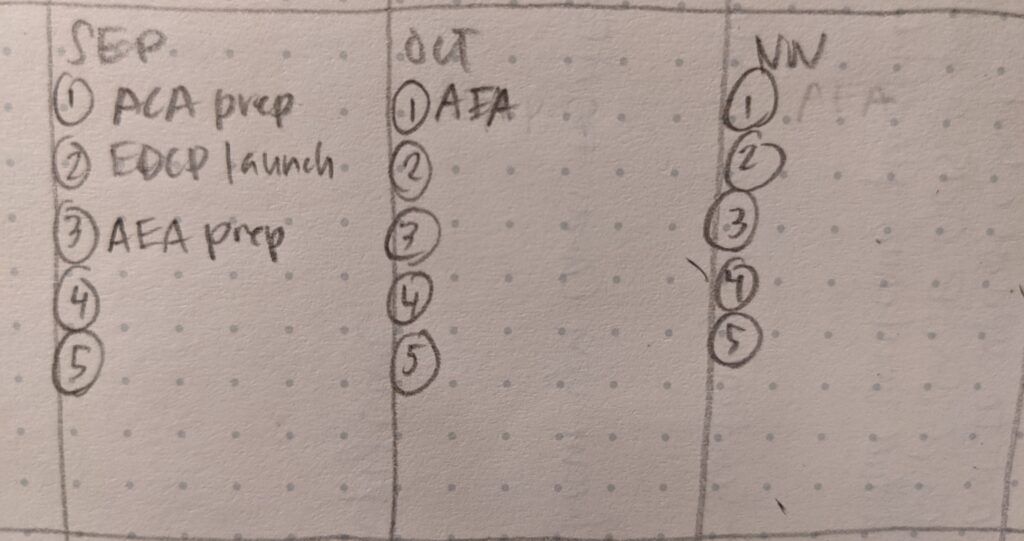 Usually my massive conference is held in November, where I market and network and make new friends and clients and hug all my people. It's the best.
It's also a whole project. It typically takes up one spot for November.
But next year they've moved it to October.
Which means my prep will happen in September, when I'm getting my talks together and planning the parties I'll host at the conference. Whew.
September is the same time I'm launching a course and prepping for the launch of another course.
Now I can look at September and recognize, months in advance, that I won't have much time for paid work. I won't overbook my September because I can only do 5 things and massive conference prep is definitely one of those things.
This means, if I'm following the 5 projects philosophy, that I have to take on one less paid project in September, in order to plan for one less paid project in October.
Gosh, that conference starts to take on a different sized budget.
Better make sure I'm working my ass off to get the most out of that conference experience.
The holidays take up one spot in December. Not even work-related but it takes up a whole spot. Because the more I thought about this five project limit, the more I realized it isn't just about work.
Got a fresh baby? That's one or two spots on every month until your kid is 3.
Dealing with an aging parent? Fill in a spot. Or three.
Old Stephanie would have scoffed a bit at this research. Like "oh yeah the average person can only handle 5 projects, but me? I'm freakin good at this. Bring it on."
Old Stephanie burned out. Repeatedly.
Health is recognizing the limits of our capacity.
We can put a lot of pressure on ourselves (and each other) to be more, achieve more, ever ever more more. And even if we have wised up to the fact that ever more isn't sustainable, you're just left wondering, well, what is?
It's five.
Now we know.
Ok, ok. One research study isn't enough to warrant such strong words like knowing something.
But I'm going to run with this framework for a year and see how I feel.
Conversely, some students in Boost and Bloom, who are just starting out on their own, are struggling to juggle more than one project at a time. Like, your brain hyperfocuses on making sure this one project doesn't go off the rails.
Let this research be an encouragement to diversify your portfolio a little.
Small projects count. The researchers point out that part of the burnout comes from the administrative time and energy to run a project, no matter its size, and the task-switching between projects that sucks your brain.
So for people who only have one project in their laser beam and need to broaden their scope, small projects count.
And for people, like me, who need to rein it in and lower their project number, small projects count.
May we see this restraint as freeing.
In January, my 5 will be:
A two-day workshop with National Science Foundation
Dashboard development work with the City of Chicago
Coordination of a workshop with one of my staff for Centers for Disease Control and Prevention
Prepping for the re-launch of my one-on-one data viz coaching program, opening in March
Final prep for re-opening Boost and Bloom (I'm so excited!)
What are your five? Email them to me.
How to Fire a Difficult Client
The first time I had to fire a difficult client, my pits sweated right through my shirt as I was composing, backspacing, and rewording that email.
Look, we're gonna to do our best to make sure we don't ever end up in this position, but sometimes you have to fire a difficult client.
I encourage you to do this at the second sign of inappropriate behavior. For the most part, I'll give people grace on their first asshole comment, late payment, or questionable Zoom background.
But the second time?
Cut your losses and get out.
You don't necessarily even need to have a clear egregious error. Sometimes you just drift apart. You've got a 5 year contract and 2 years in you've decided you want to shift your business focus.
Instead of providing a full suite of graphic design services, you're pivoting into the niche of writing each wedding guest's name in calligraphy on individual grains of rice that they'll chuck at the happy couple. Totally cool.
Pivots happen all the time.
The bottom line is don't do this:
Even if you really really really want to.
When you recognize it's time to part ways your first stop is your contract. Whip that baby out.
It's gonna have a section on cancellation. The most common clause I see says that the contract can be cancelled by either party with 30 days' notice.
Ok, cool.
Email your client and say… whatever you want. But not too much. Unless you want to.
Crystal clear?
My point is you aren't obligated to say much but if you've had a good relationship and want to preserve it, you can provide some detail.
How to fire a difficult client:
You can be as efficient as "Hey there – It breaks my heart to do this but I need to sever our partnership. Our contract asks for 30 days' notice – please consider this the notice. I'll continue to give my best on this project in that time and I have someone in mind I'd like to transition you to if you want a recommendation."
You don't have to mention calligraphy on wedding rice.
You also don't need to provide a recommendation if your client is a jerk. Because the colleague you're recommending doesn't deserve that behavior either.
If they've specifically breached the contract in some way, you don't have to wait the 30 days either. You just need to point to that clause in the contract, like "Todd, when you commented on the size of my butt at last week's meeting, it was a breach of the sexual harassment clause of the contract, which is cause for immediate cancellation. I'll be sending my final invoice over shortly."
I've been in less clear situations where I had to say something like "The ongoing reshuffling of my scope and responsibilities is making it impossible for me to fulfill the obligations laid out in our contract. Further, I need to be able to trust a partnership – that's how we plan out our business strategy. This partnership is not working for our business model any more."
Copy/paste these as much as you need.
Take a deep breath and hit send.
And if you've loved these folks, consider shipping them a parting gift of wedding rice.
Do not forget to send the final invoice.
Sometimes we don't review our contracts very carefully before signing and end up agreeing to a clause that's less fair, like one that says only your client is allowed to cancel. If that's you, still try one of these options listed above. Chances are that once you convey that you're unhappy, they'll also want to part ways.
If you're screening your prospective clients well, firing a difficult client will be rare (so bookmark this page for when you need it). I have to do it once every other year.
When it happens to you, it sucks but I'm here for ya. Email me and tell me what happened and how they reacted. We'll get through it together.
Business Boundaries
I live a couple blocks from the world's best pizzeria. I count it among my many blessings. The owner, Rich, has perfected red sauce. He hires neighborhood kids. He'll donate a dozen pies to any local charity that asks.
So why does he have reviews like this, from Lauren C who lives in the "theater district" in Manhattan:
"I have never been treated so poorly by the owner of a restaurant or any employee. I will never be back and recommend you avoid this restaurant at all cost.  
"The food does not compensate for the horrible attitude and hostility of a mean man."
I have a pretty good guess, because here's what happened to me, many moons ago.
I asked for my salad dressing on the side. My server said, "I can give you no dressing. I can give you a ~whisper~ of dressing. But I can't put your dressing on the side."
Um what? I'm feeling kinda Lauren C right now.
My server explained that the chef carefully constructs each dish, which is meant to be consumed as a whole, not as individual parts. It's like a piece of art. You wouldn't ask an artist to put all the yellow in a pot on the side of the painting.
In other words, this restaurant has integrity. They know their food is amazing. They know what makes it amazing. And they don't mess with the magic.
That's called having boundaries (and I suspect Lauren C isn't used to facing boundaries).
Boundaries are how you maintain the integrity of your work.
Most of us don't even consider business boundaries. That's how we get scope creep and asshole clients.
You can recognize missing boundaries when you put together a proposal for a client and the client comes back with a list of tweaks they want to make to your package and you say yes.
You say yes because you want the money and the client and the opportunity. What you trade for the yes is the integrity of your plan.
The thoughtfulness and experience you put into the creation of a package of services that you know will serve this client the best.
You lose your voice of wisdom – which, as a consultant, is one of your most valuable assets. It's why you attracted this client in the first place.
How successful will this project really be if your voice of wisdom can be pushed back and questioned?
Of course – partnership is important and that will always require some discussion and collaboration and the lovely unfolding of new ideas. It's your job to recognize when your client is treading into your area of expertise and crossing a boundary.
When you let your boundaries get crossed, you're not a consultant, you're a freelancer.
Rich's expertise is Italian food. Lauren C's expertise is not Italian food. Rich has every single right – and I would even say *responsibility* – as the expert to say what can and cannot be changed to maintain the integrity of his food.
And so do you.
Granted, Rich is a white dude, which comes with a level of privilege that likely makes it easier for him to tell a customer no, to risk a bad review on Yelp.
But Rich can also bet on the fact that his work is so flippin good that all of the 5 star reviews saying this is the best pizza on the planet will overshadow the Lauren Cs of the world.
And so can you.
Focus on constructing amazing packages for your services. Produce extraordinary results for clients. And your reputation takes care of itself.
Business boundaries start like this:
I don't….
We only…
Our focus is on…
My policy is…
Finish one of these sentences and email me with your business boundary.
Client Red Flags
"What would the price be if we took out the graph makeovers?"
When I hear this question, I run for the hills. I've learned to recognize this request as a giant red flag.
This question reflects a potential client who is gonna be a complete PITA (while most business acronyms are ridiculous, this one is important: Pain In The Ass). And I do not want to work with PITAs.
Just like I didn't want to date jerks. It can be hard to know who's a jerk at first, right? Everyone's got maximum charm and best behavior at the beginning.
But once you get burned, you (and your friends) look back at those seemed-benign-at-the-time comments like "I'm such a feminist – I love women!" with fresh eyes. Hindsight teaches you to recognize red flags.
Same with clients when we get burned.
Collect the lessons and form a red flag checklist.
We each have to DIY our own red flag list. But let me seed yours, ok? The question a potential client posed at the top of this post about what the price would be…. that's nickel-and-dime behavior.
Here's what isn't: "Do you have any government or non-profit discounts?" That question is harmless.
First of all, it's common. Many places DO offer government and non-profit rates.
Second, I respect the fiduciary obligation to inquire about a deal. I get it – we've all got budgets. Doesn't hurt to ask. Reminds me of the way my grandma looked her budtender right in the eye and asked if he had a senior discount. The chutzpah.
But this question: "What would the price be if we took out the graph makeovers?" is different. It's saying "Even though you've developed a well-thought-out workshop package designed to increase our data visualization capacity as much as possible, can I take it apart bit-by-bit?" Nope.
You don't have to listen to my experience, if you're interested in playing with fire.
Let me tell you what happened after I said YES one time. YES, we can take out the graph makeovers and lower the price. You know what came a week later?
"Well, what would the price be if we took out access to the Data Visualization Academy, too?"
Run, my dear.
Because the next step will be a request for an hour-by-hour account of your work.
And not only is that a nickel-and-dime situation that breaks the high-quality package I've pulled together, it's micromanagement. This client is gonna be a PITA.
Yes usually comes from a place of fear. No comes from a place of strength.
It isn't worth the pain.
My friend Toby made me write down my dating red flag list. He'd pull it out over IPAs in the pub, when the occasion was right. When I was about to make a bad decision and repeat a mistake.
You may need to do the same for your client red flag list. Share it with someone else who can keep you accountable to the higher standards you're setting for yourself. Write to me with your list and compare yours with that of another entrepreneurial friend.
Your red flag list is how you create boundaries. It's how you generate an empire where the atmosphere is respect. It saves you from stress headaches and new gray hairs. It's peace.