How to Reject a Potential Client
"How do I say no to a potential client? And how do I tell that it should be a no?"
– A Bearing Fruit reader
How to Tell It's a No
Speaking just for myself, it's an easy no if the request is outside of my wheelhouse or my availability.
But if it is aligned with my skills and mission AND I have the space in my schedule, I then check that the project fits these three criteria: fun, lucrative, and no assholes.
You have to make up your own criteria, of course. Just like you had in your dating days, you need a red flag list for clients.
But also, it might just feel bad. Like, the project or the client isn't ringing any specific alarm bells but your heart or your gut is just saying no. That's perfectly fine. Trust your spidey sense.
How to Actually Say No
Ah yes, the hard part. The reason this is hard is because you have to be honest – without oversharing.
If you say "I'm all booked up!" you may experience exactly what happened to me (as described in this fun podcast episode) – the potential client (who was an asshole) wrote me back to ask when I'd be free.
Saying no after that is extremely awkward – so much so that if you have any people-pleasing tendencies whatsoever, you're likely to say "in two weeks" and now you've got yourself an asshole client.
On an Office Hours call with my Boost & Bloom students, someone with a very well-established business (you'll notice I don't name names of my students or my readers – we follow The Chatham House Rule) gave the best answer "We're not a good fit."
This is the best reply because it's hard to argue. The trick is to stop there. Don't start explaining WHY you aren't a good fit. People socialized female will especially feel compelled to make the other person comfortable, so we'll justify the mis-fit. But the more you talk, the more you leave yourself open to be countered.
If you feel you must, you could provide a recommendation. But that's not a requirement. You aren't a match-making service.
You can just type "Thanks so much for reaching out. This project isn't a good fit for my company. Best of luck in your pursuits." Hit send and go about your day.
If they write back, don't panic – smile. It's great! Because it's validating your initial assessment: People who push back against a no are assholes.
Do not reply. Delete without guilt. People show you who they are. Listen and act accordingly.
This may be one of the shortest Bearing Fruit newsletter editions because the answer is brief. It's the emotional effort to get to that brief answer that takes time to work through.
The Invisible Operating Manual
The Protestant work ethic is so deeply ingrained in American culture that it's hard to even know you're operating according to its instructions. Like the fish who doesn't know it's in water. Swim with me and let's identify the fluorescent-colored rocks that have been making up our belief systems about how we work.
I'm not necessarily saying any of these Protestant traits are bad. If you're Protestant, do you. I believe it's incredibly helpful to understand the indicators of the Protestant mindset that have influenced our collective psyche so you can decide for yourself if these notions are helping you or getting in your way.
Work should be hard.
This is the root of no pain, no gain. If it doesn't hurt, you're lazy.
Hard work is part of the same United States mentality that allows people to go unhoused and unsupported; the thinking is that they should have just worked harder.
I know you've got a big heart so you don't think that about the people you see on street corners with cardboard signs. But how often have you chastised yourself with that same thinking – I should have just worked harder.
Another important component to this ethic is that money should only come through blood, sweat, tears, exhaustion, sacrifice, and at the expense of your mental health and relationships. That if you make a lot of money and you're only working 20 hours a week, you've cheated. Gain without pain is unethical.
But yall… look where that's gotten us *gestures wildly at everything*.
Pay your dues.
Work your way up the ladder. Start as a junior assistant, work 80 hours a week for two years and become assistant. Two more years to senior assistant. I was sold a similar tale when I worked at the university. But then one day I realized there are 10 senior research associates all eyeing the one deputy director position, so…..
But gosh the university sure benefitted from our labor by selling us that Pay Your Dues story.
It's this thinking that casts a side eye toward the young entrepreneur, questioning her gall and experience. As if she hasn't put in enough hours to earn a CEO title.
Look, there's a grain of truth here right? You do get wisdom with experience. But hours of butt in chair does not equal experience. It's what you do with that time.
Save what's left.
Protestant work ethic says that your job is your calling. You should dedicate all of your energy to it because, they think, this is what God wants you to do – it's what gives your life meaning. Of course this leads to burnout.
It also means you shouldn't engage in other activities. Like a personal life. Cause that's outside your calling.
So if you do have some extra cash on hand, squirrel it away. Don't invest in your rest. Don't take a class for your personal growth. Don't upgrade your quality of life.
Save What's Left is also tied to the Protestant work ethic of self-denial. You come last. This explains why so many fresh entrepreneurs don't even pay themselves.
Reward is in the afterlife.
The whole deal is predicated on this promise: You toil your tushy off because that's how you show God you're worthy of heaven. Whether or not you believe in heaven, a similar promise shows up in Pay Your Dues. And the whole notion of retirement.
Can I be honest? I'm a little scared of retirement. Because everyone I know who is retired 100% bought into this Protestant work ethic and as far as I can tell, it kinda sucks.
Sure you have more time to spend with the grandkids and that's super cute. I just don't see that many retired people who are truly, deeply happy and living the life of their dreams. They're tired. Cause they worked 80 hour weeks and didn't make time along the way for the things that actually create a happy life.
Is this what you want?
These ethics are the building blocks of capitalism and exploitive labor conditions. These ethics define that middle class American lifestyle that takes a vacation once every five years and has 2.5 kids. And, again, no judgies if that's what you want.
I just want you to be aware that the definitions of success come from a very specific perspective. They aren't universal. They definitely don't work for everyone. And they probably have seeped into your internal narratives and it's ok to question whether those are subscriptions you want to keep active.
Scope Snap
I know you've heard of scope creep – when your client asks you to do a little more here and a little more there until you're basically running a second project for the cost of one. But let me introduce you to a new term (for maybe a familiar experience): scope snap.
This is how scope snap happens:
A well-intentioned client asks you to join onto a grant they're writing. Your name, reputation, and skill set will add strength to their proposal.
You really like the idea of a few years of guaranteed funding and the proposed project fits your mission. So you develop a semi-detailed plan for how your part of the project would go.
In my case, it was data visualization skill-building workshops (my sweet spot) for teachers (my people) who focus on culture-based curriculum (hell yes) and want to tell the story of student progress outside of test scores (yes please) and work in a primo island vacation destination (yall I just don't know how it gets any better for your girl Stephanie).
I had the work plan drawn up by the end of the day.
The first red flag I should have seen was when the client asked for even more: workshops on data collection (uh oh, not really my area) and identification of appropriate metrics (outside my wheelhouse). You might have "scope creep" sirens blaring in your brain. But they had dollar amounts attached to these additional asks.
Plus I said no. That's not what I'm best at. If those are requirements, I can refer you to someone else to replace me.
(That's one way to handle scope creep, if it comes up in the getting-to-know-you stage.)
We negotiated a bit more, finalized my part of the proposal, and then waited a bazillion years to hear back from the funding agency. And then a fazillion years to actually get the money so we could start.
And it was at that moment, a bazillion-fazillion years later, when the scope snap happened.
The amount of money my client got was not equal to the amount they'd requested. So my client had no choice but to review the proposed plans, compare it to the funds available, and start snapping scopes.
Has this ever happened to you?
Rather than capacity-building workshops teaching teachers how to be empowered with data, my client wanted me to switch lanes and design dashboards for 3 schools.
The thing is, I don't really enjoy design work. I'm happiest when I have zero design clients. I accept just a few design projects per year and I'm extremely choosy. They don't have the same life-changing power as my workshops do. (And design, by the by, is a fully remote activity.)
Had I known this was going to be a design project, I would have declined from the start.
This scope snap gave me whiplash.
The second big red flag danced in my face like one of those purple inflatable people outside the quickie oil change place.
So what would you do in this situation?
Options:
🧐 Be grateful for the work. Even if it's work you don't enjoy. Unenjoyable work is part of life. Right?
🧐 Be ungrateful for the work but stay focused on their alignment with your social justice mission and do it for the cause.
🧐 Politely decline the scope snap and refer a colleague.
🧐 Impolitely decline the scope snap and rage. Burn the bridge.
When we're coming from a place of insecurity, when imposter syndrome is ever present, we usually only see Option 1. We don't even know we've got other possibilities.
I chose Option 2. I grumbled under my breath a little but shifted my focus to my heart, which loved the overarching purpose of the project.
It worked for about a year.
The reason it fell apart was not because the mission changed or my heart turned.
The reason was actually far more obvious.
Those first two big red flags weren't the last two big red flags. After all, that's what reg flags are: Signs and symptoms of larger underlying dysfunction that's gonna come bite you in the tushy at some point.
What was originally a mid-six-figure project over a few years snapped into a five-figure project that lasted one year.
Good thing I didn't let dollar signs get stuck in my eyeballs and buy a second house in Portugal with a giant mortgage.
You've heard the phrase Don't count your chickens before they're hatched?
Yep, but in this case it's Don't count your checks before they're cashed.
In hindsight, I'm sad for the year I spent trying to make it work. The hours and hours I sunk into revising and re-revising the proposed scope of work so it fit into the snapped budget. The endless Zooms.
It's hard to learn to spot a red flag. It's even harder to figure out whether it's a blip or warning siren. (Everyone has blips. I blip every day. I can absolutely look past a blip.)
I'm still working on that discernment.
Here's the lesson I've skimmed from this so far:
The two red flags I saw early on were both instances where the client was trying to get me to agree to work I don't really do. A classic square-peg-round-hole situation. At this point in my life, I've accepted the fact I'm a square.
The next time a scope snap happens, I plan to lean toward being ok with it, as long as it still lets me be a square. When I feel like someone is trying to shave off my corners, I'm gonna say no.
I know you've had a scope snap, too. How did you handle it? Email me.
Things I Quit
You've gotta quit in order to grow. The old model of growth by adding more and more and more is unsustainable. It leads to burnout. It's bad for the health of the community, the planet, and you.
I didn't totally recognize that when I first started by business. My editor asked me to write a book and I was so full of that young, I-can-do-anything energy that I said yes.
Thinking I'd just tuck it in around the edges of my life.
Getting up early, before my kid.
Staying up late, after everyone else had gone to sleep.
Taking weekend retreats in the woods to write, rewrite, and reread my own words for the bazillionth time.
It worked, but I ended up resenting that book.
Since it takes me a long time to learn from my mistakes, I wrote a second and third book using the same burnout model.
After the third book I swore I'd never write another. The process spent me.
I hadn't adequately prepared my time and energy for that level of growth.
See, that growth did cause me to cut things – though I didn't consciously understand it at the time. I cut time with my family and friends. I cut sleep and deep rest. I lost a summer of bike rides.
And when you cut out the things that bring you joy, you get resentment.
Seems so obvious, doesn't it?
Yet we typically don't face these facts and make thoughtful choices about what we'll cut in order to make space for the incoming opportunities.
So now I know better. When I write down my quarterly or annual goals, I also write a list of the things I'll quit so I have the room to accomplish those goals.
This drop list was from 2015: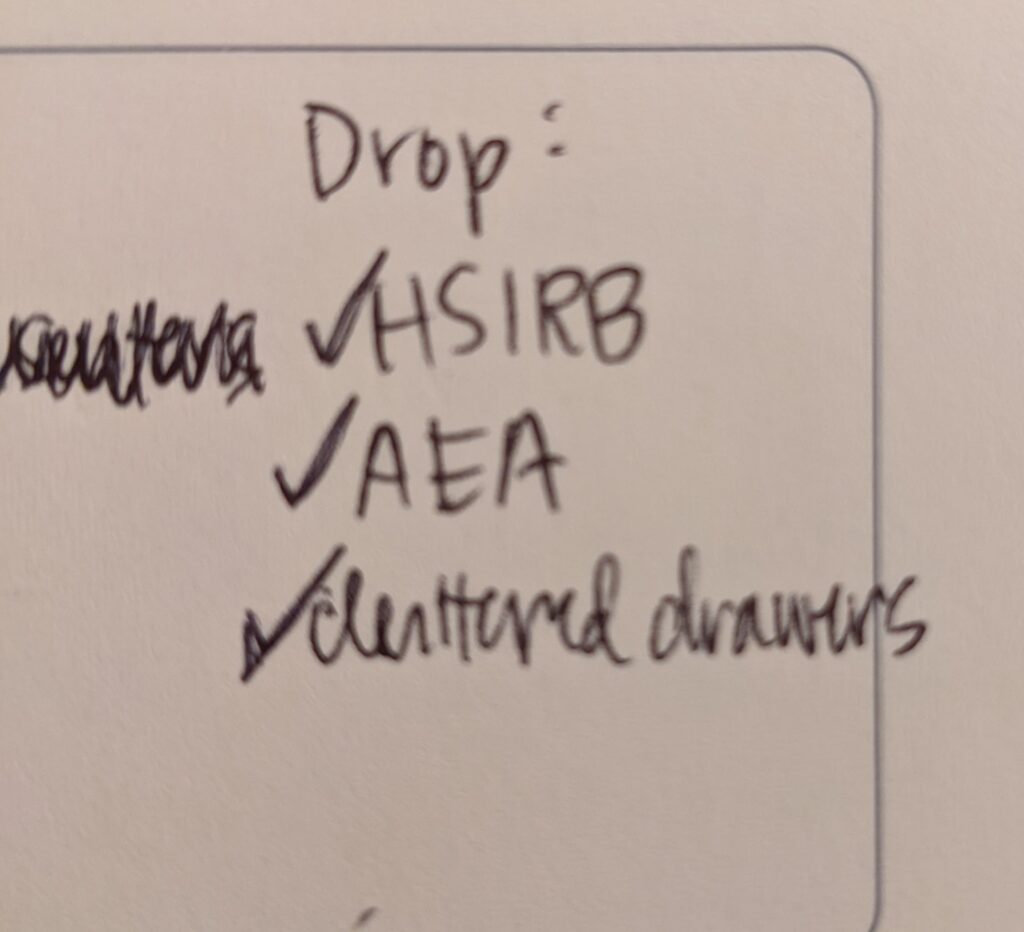 I quit my spot on the local Human Subjects Institutional Review Board (and currently have a ban on all committee work). It didn't fit the way my career had evolved anymore.
I quit working for the American Evaluation Association, who chronically underpaid me.
And I quit having cluttered drawers because it messes with my peace of mind.
Another year, I wrote: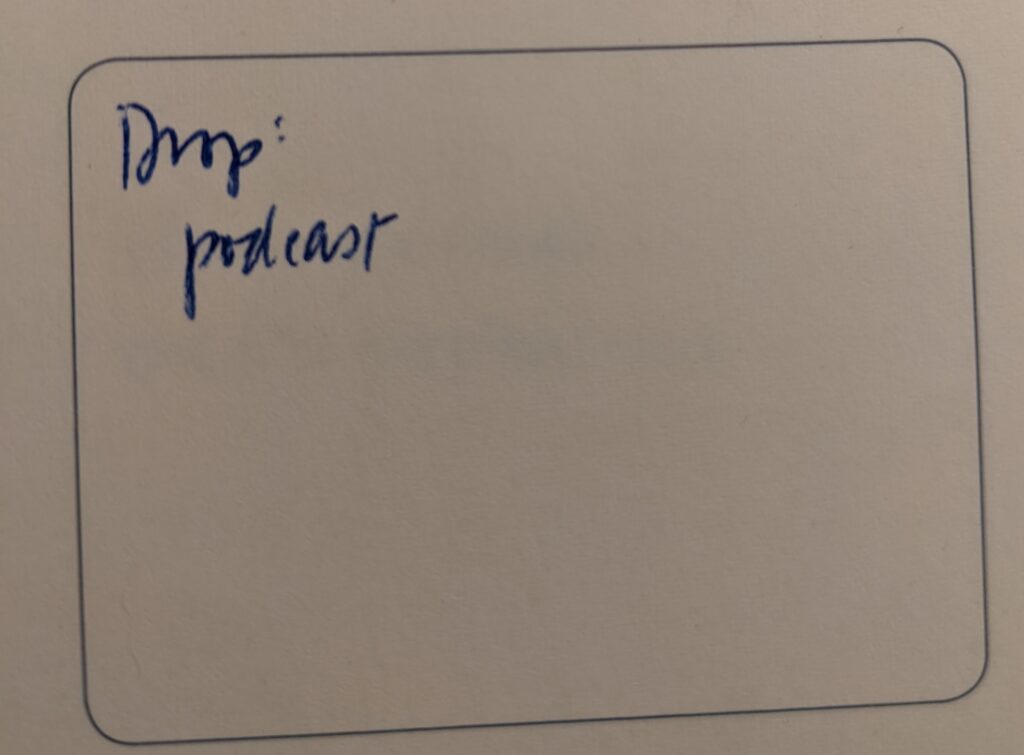 That was the only thing. I quit hosting a podcast. It took up a lot of time and the more I got to know my cohost the more my internal alarm bells were going off.
This quit list came in prep for the year I knew I'd be writing books two and three: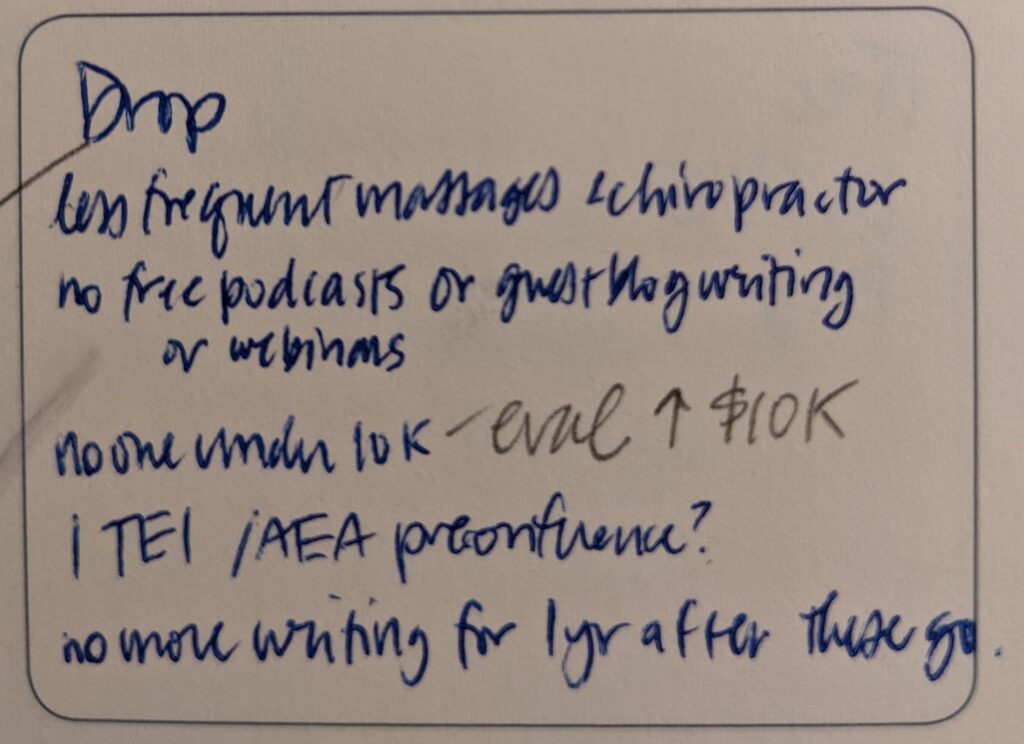 I actually said I'd quit having such frequent massages and chiropractic adjustments! What the hell was I thinking?! It takes me a while to learn from my mistakes.
I quit writing for free on other people's blogs.
I quit working for small projects, which take just as much admin time as big projects.
I significantly cut back on holding workshops for organizations that paid me far under what I was worth.
And I predicted I'd be done with my post-book recovery after just one year. LOL.
More recently, I quit taking on work with people or companies that don't align with me. And I quit reading emails from my kid's school's PTA – bye, guilt!
Each of your goals should also have a quit buddy.
It's been five years since I wrote a book. Each year my editor gently asks, in her hard-to-say-no-to London accent, "Can we put our heads together about another edition?"
I'm still not sure I feel ready. It's taken five years to recover from the burnout.
This time around, I'm not saying yes until I can identify the things I'll quit.
I'm not willing to sacrifice sleep, personal time, or exercise.
I'm not gonna give up writing you emails or getting into the Boost & Bloom Office Hours to answer your burning questions.
So what is gonna give?
Without a doubt, I'll lose out on income. Books are not lucrative and I'll have to quit taking on so many data viz workshops.
And that's as far as my thinking has evolved right now. Which is why I haven't answered my editor yet.
The hardest: Quitting what you started.
It's pretty easy to identify the things you'll quit that bring you resentment, like that committee. Sooooo much harder to let go of the things you founded.
A Bearing Fruit reader reached out on a different topic but in the process of introducing herself, she listed out all the extra curricular groups she'd launched or was currently chairing. I could see the squeeze those were putting on what she really wanted to do with her time. So this part is for you.
Nobody wants to let go of their babies. Even if it means the baby has taken all your fruit and cut your branches (ever read The Giving Tree? It's dark!). You'll feel better about leaving it behind if you send it off with some guidance.
Write up some guiding principles for that group you started. Make a wish list. Develop an operating manual. Then pass it all on to someone else (yes – you give other people leadership opportunities, which is very cool). You get no guarantees that they'll abide by your instructions. Hope they'll make your baby even better.
If it dies on the vine – that's what it was supposed to do. No org, club, interest group, or adventure can sustain on the labor of one person (you, Babe).
You can always come back in five years and run for vice president. And no matter what, "Founder" stays on your resume.
My friend, what's on your quit list? Shoot me an email with the next thing you'll quit, as soon as you need to make space.
Your Limit is Five Projects
Breaking News: You can only handle 5 projects at a time.
New research out of University of Liverpool reports on analysis of 9,649 data points and it's showing that when you get beyond 5 projects, you start to lose your mind and burn out.
Isn't that incredibly helpful information?
Or am I the only one that finds comfort in being data-driven?
5 projects at a time. That's it.
So here's how I'm using this idea to plan for an ever calmer, more sustainable 2023.
As usual, I made my grid for the year, blocking out each month in a 6 x 2 matrix so I can plot out my projects and anticipated income.
In previous years, I'd just cram each month's square with all the projects I committed to and their associated revenue so I could track my monthly dollars and see the balance of my work across the year, on one page. Helpful, to be sure.
But this time around I made an adjustment: Each month is now a numbered list, 1 to 5.
Each workshop I book will fill one spot. Each consultancy. When the 1-5 has been filled for a month, I make a little x to show it's full. Then I tell clients "Oh sorry, May is booked. My next opening is in June."
And when I can see the whole year like this, I can also plot out unpaid events I know I'll have.
For example, here's my Fall 2023: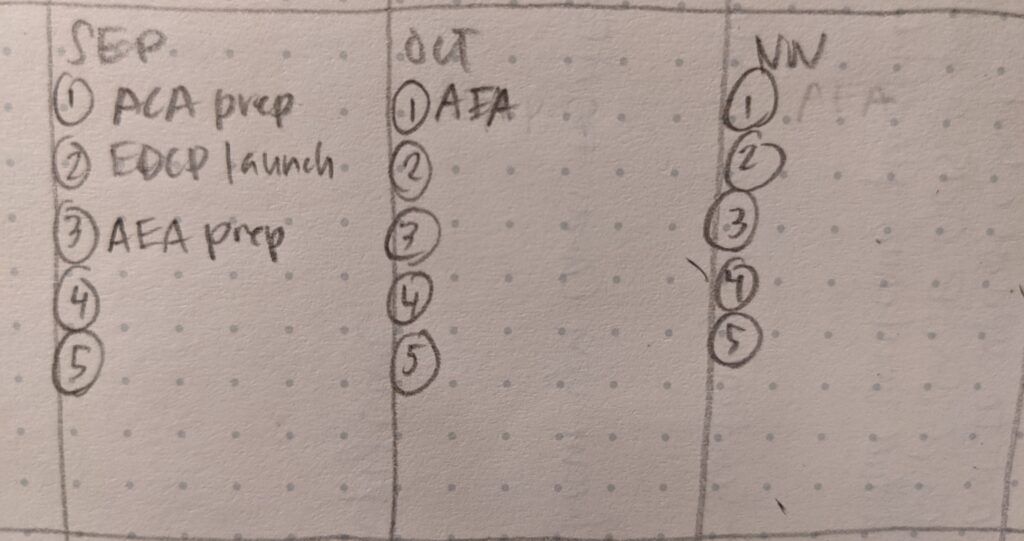 Usually my massive conference is held in November, where I market and network and make new friends and clients and hug all my people. It's the best.
It's also a whole project. It typically takes up one spot for November.
But next year they've moved it to October.
Which means my prep will happen in September, when I'm getting my talks together and planning the parties I'll host at the conference. Whew.
September is the same time I'm launching a course and prepping for the launch of another course.
Now I can look at September and recognize, months in advance, that I won't have much time for paid work. I won't overbook my September because I can only do 5 things and massive conference prep is definitely one of those things.
This means, if I'm following the 5 projects philosophy, that I have to take on one less paid project in September, in order to plan for one less paid project in October.
Gosh, that conference starts to take on a different sized budget.
Better make sure I'm working my ass off to get the most out of that conference experience.
The holidays take up one spot in December. Not even work-related but it takes up a whole spot. Because the more I thought about this five project limit, the more I realized it isn't just about work.
Got a fresh baby? That's one or two spots on every month until your kid is 3.
Dealing with an aging parent? Fill in a spot. Or three.
Old Stephanie would have scoffed a bit at this research. Like "oh yeah the average person can only handle 5 projects, but me? I'm freakin good at this. Bring it on."
Old Stephanie burned out. Repeatedly.
Health is recognizing the limits of our capacity.
We can put a lot of pressure on ourselves (and each other) to be more, achieve more, ever ever more more. And even if we have wised up to the fact that ever more isn't sustainable, you're just left wondering, well, what is?
It's five.
Now we know.
Ok, ok. One research study isn't enough to warrant such strong words like knowing something.
But I'm going to run with this framework for a year and see how I feel.
Conversely, some students in Boost and Bloom, who are just starting out on their own, are struggling to juggle more than one project at a time. Like, your brain hyperfocuses on making sure this one project doesn't go off the rails.
Let this research be an encouragement to diversify your portfolio a little.
Small projects count. The researchers point out that part of the burnout comes from the administrative time and energy to run a project, no matter its size, and the task-switching between projects that sucks your brain.
So for people who only have one project in their laser beam and need to broaden their scope, small projects count.
And for people, like me, who need to rein it in and lower their project number, small projects count.
May we see this restraint as freeing.
In January, my 5 will be:
A two-day workshop with National Science Foundation
Dashboard development work with the City of Chicago
Coordination of a workshop with one of my staff for Centers for Disease Control and Prevention
Prepping for the re-launch of my one-on-one data viz coaching program, opening in March
Final prep for re-opening Boost and Bloom (I'm so excited!)
What are your five? Email them to me.
How to Fire a Difficult Client
The first time I had to fire a difficult client, my pits sweated right through my shirt as I was composing, backspacing, and rewording that email.
Look, we're gonna to do our best to make sure we don't ever end up in this position, but sometimes you have to fire a difficult client.
I encourage you to do this at the second sign of inappropriate behavior. For the most part, I'll give people grace on their first asshole comment, late payment, or questionable Zoom background.
But the second time?
Cut your losses and get out.
You don't necessarily even need to have a clear egregious error. Sometimes you just drift apart. You've got a 5 year contract and 2 years in you've decided you want to shift your business focus.
Instead of providing a full suite of graphic design services, you're pivoting into the niche of writing each wedding guest's name in calligraphy on individual grains of rice that they'll chuck at the happy couple. Totally cool.
Pivots happen all the time.
The bottom line is don't do this:
Even if you really really really want to.
When you recognize it's time to part ways your first stop is your contract. Whip that baby out.
It's gonna have a section on cancellation. The most common clause I see says that the contract can be cancelled by either party with 30 days' notice.
Ok, cool.
Email your client and say… whatever you want. But not too much. Unless you want to.
Crystal clear?
My point is you aren't obligated to say much but if you've had a good relationship and want to preserve it, you can provide some detail.
How to fire a difficult client:
You can be as efficient as "Hey there – It breaks my heart to do this but I need to sever our partnership. Our contract asks for 30 days' notice – please consider this the notice. I'll continue to give my best on this project in that time and I have someone in mind I'd like to transition you to if you want a recommendation."
You don't have to mention calligraphy on wedding rice.
You also don't need to provide a recommendation if your client is a jerk. Because the colleague you're recommending doesn't deserve that behavior either.
If they've specifically breached the contract in some way, you don't have to wait the 30 days either. You just need to point to that clause in the contract, like "Todd, when you commented on the size of my butt at last week's meeting, it was a breach of the sexual harassment clause of the contract, which is cause for immediate cancellation. I'll be sending my final invoice over shortly."
I've been in less clear situations where I had to say something like "The ongoing reshuffling of my scope and responsibilities is making it impossible for me to fulfill the obligations laid out in our contract. Further, I need to be able to trust a partnership – that's how we plan out our business strategy. This partnership is not working for our business model any more."
Copy/paste these as much as you need.
Take a deep breath and hit send.
And if you've loved these folks, consider shipping them a parting gift of wedding rice.
Do not forget to send the final invoice.
Sometimes we don't review our contracts very carefully before signing and end up agreeing to a clause that's less fair, like one that says only your client is allowed to cancel. If that's you, still try one of these options listed above. Chances are that once you convey that you're unhappy, they'll also want to part ways.
If you're screening your prospective clients well, firing a difficult client will be rare (so bookmark this page for when you need it). I have to do it once every other year.
When it happens to you, it sucks but I'm here for ya. Email me and tell me what happened and how they reacted. We'll get through it together.
Business Boundaries
I live a couple blocks from the world's best pizzeria. I count it among my many blessings. The owner, Rich, has perfected red sauce. He hires neighborhood kids. He'll donate a dozen pies to any local charity that asks.
So why does he have reviews like this, from Lauren C who lives in the "theater district" in Manhattan:
"I have never been treated so poorly by the owner of a restaurant or any employee. I will never be back and recommend you avoid this restaurant at all cost.  
"The food does not compensate for the horrible attitude and hostility of a mean man."
I have a pretty good guess, because here's what happened to me, many moons ago.
I asked for my salad dressing on the side. My server said, "I can give you no dressing. I can give you a ~whisper~ of dressing. But I can't put your dressing on the side."
Um what? I'm feeling kinda Lauren C right now.
My server explained that the chef carefully constructs each dish, which is meant to be consumed as a whole, not as individual parts. It's like a piece of art. You wouldn't ask an artist to put all the yellow in a pot on the side of the painting.
In other words, this restaurant has integrity. They know their food is amazing. They know what makes it amazing. And they don't mess with the magic.
That's called having boundaries (and I suspect Lauren C isn't used to facing boundaries).
Boundaries are how you maintain the integrity of your work.
Most of us don't even consider business boundaries. That's how we get scope creep and asshole clients.
You can recognize missing boundaries when you put together a proposal for a client and the client comes back with a list of tweaks they want to make to your package and you say yes.
You say yes because you want the money and the client and the opportunity. What you trade for the yes is the integrity of your plan.
The thoughtfulness and experience you put into the creation of a package of services that you know will serve this client the best.
You lose your voice of wisdom – which, as a consultant, is one of your most valuable assets. It's why you attracted this client in the first place.
How successful will this project really be if your voice of wisdom can be pushed back and questioned?
Of course – partnership is important and that will always require some discussion and collaboration and the lovely unfolding of new ideas. It's your job to recognize when your client is treading into your area of expertise and crossing a boundary.
When you let your boundaries get crossed, you're not a consultant, you're a freelancer.
Rich's expertise is Italian food. Lauren C's expertise is not Italian food. Rich has every single right – and I would even say *responsibility* – as the expert to say what can and cannot be changed to maintain the integrity of his food.
And so do you.
Granted, Rich is a white dude, which comes with a level of privilege that likely makes it easier for him to tell a customer no, to risk a bad review on Yelp.
But Rich can also bet on the fact that his work is so flippin good that all of the 5 star reviews saying this is the best pizza on the planet will overshadow the Lauren Cs of the world.
And so can you.
Focus on constructing amazing packages for your services. Produce extraordinary results for clients. And your reputation takes care of itself.
Business boundaries start like this:
I don't….
We only…
Our focus is on…
My policy is…
Finish one of these sentences and email me with your business boundary.
Client Red Flags
"What would the price be if we took out the graph makeovers?"
When I hear this question, I run for the hills. I've learned to recognize this request as a giant red flag.
This question reflects a potential client who is gonna be a complete PITA (while most business acronyms are ridiculous, this one is important: Pain In The Ass). And I do not want to work with PITAs.
Just like I didn't want to date jerks. It can be hard to know who's a jerk at first, right? Everyone's got maximum charm and best behavior at the beginning.
But once you get burned, you (and your friends) look back at those seemed-benign-at-the-time comments like "I'm such a feminist – I love women!" with fresh eyes. Hindsight teaches you to recognize red flags.
Same with clients when we get burned.
Collect the lessons and form a red flag checklist.
We each have to DIY our own red flag list. But let me seed yours, ok? The question a potential client posed at the top of this post about what the price would be…. that's nickel-and-dime behavior.
Here's what isn't: "Do you have any government or non-profit discounts?" That question is harmless.
First of all, it's common. Many places DO offer government and non-profit rates.
Second, I respect the fiduciary obligation to inquire about a deal. I get it – we've all got budgets. Doesn't hurt to ask. Reminds me of the way my grandma looked her budtender right in the eye and asked if he had a senior discount. The chutzpah.
But this question: "What would the price be if we took out the graph makeovers?" is different. It's saying "Even though you've developed a well-thought-out workshop package designed to increase our data visualization capacity as much as possible, can I take it apart bit-by-bit?" Nope.
You don't have to listen to my experience, if you're interested in playing with fire.
Let me tell you what happened after I said YES one time. YES, we can take out the graph makeovers and lower the price. You know what came a week later?
"Well, what would the price be if we took out access to the Data Visualization Academy, too?"
Run, my dear.
Because the next step will be a request for an hour-by-hour account of your work.
And not only is that a nickel-and-dime situation that breaks the high-quality package I've pulled together, it's micromanagement. This client is gonna be a PITA.
Yes usually comes from a place of fear. No comes from a place of strength.
It isn't worth the pain.
My friend Toby made me write down my dating red flag list. He'd pull it out over IPAs in the pub, when the occasion was right. When I was about to make a bad decision and repeat a mistake.
You may need to do the same for your client red flag list. Share it with someone else who can keep you accountable to the higher standards you're setting for yourself. Write to me with your list and compare yours with that of another entrepreneurial friend.
Your red flag list is how you create boundaries. It's how you generate an empire where the atmosphere is respect. It saves you from stress headaches and new gray hairs. It's peace.