Your Limit is Five Projects
Breaking News: You can only handle 5 projects at a time.
New research out of University of Liverpool reports on analysis of 9,649 data points and it's showing that when you get beyond 5 projects, you start to lose your mind and burn out.
Isn't that incredibly helpful information?
Or am I the only one that finds comfort in being data-driven?
5 projects at a time. That's it.
So here's how I'm using this idea to plan for an ever calmer, more sustainable 2023.
As usual, I made my grid for the year, blocking out each month in a 6 x 2 matrix so I can plot out my projects and anticipated income.
In previous years, I'd just cram each month's square with all the projects I committed to and their associated revenue so I could track my monthly dollars and see the balance of my work across the year, on one page. Helpful, to be sure.
But this time around I made an adjustment: Each month is now a numbered list, 1 to 5.
Each workshop I book will fill one spot. Each consultancy. When the 1-5 has been filled for a month, I make a little x to show it's full. Then I tell clients "Oh sorry, May is booked. My next opening is in June."
And when I can see the whole year like this, I can also plot out unpaid events I know I'll have.
For example, here's my Fall 2023: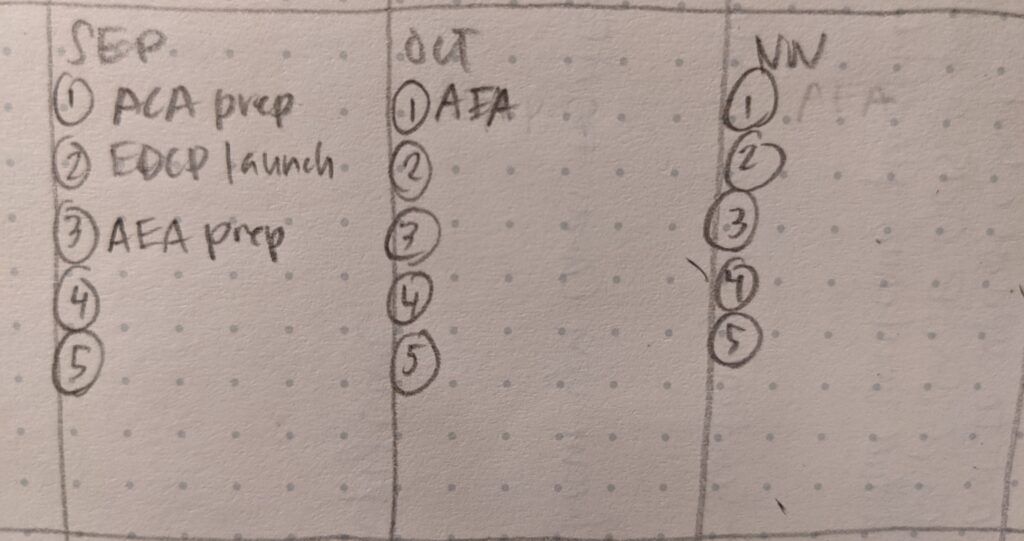 Usually my massive conference is held in November, where I market and network and make new friends and clients and hug all my people. It's the best.
It's also a whole project. It typically takes up one spot for November.
But next year they've moved it to October.
Which means my prep will happen in September, when I'm getting my talks together and planning the parties I'll host at the conference. Whew.
September is the same time I'm launching a course and prepping for the launch of another course.
Now I can look at September and recognize, months in advance, that I won't have much time for paid work. I won't overbook my September because I can only do 5 things and massive conference prep is definitely one of those things.
This means, if I'm following the 5 projects philosophy, that I have to take on one less paid project in September, in order to plan for one less paid project in October.
Gosh, that conference starts to take on a different sized budget.
Better make sure I'm working my ass off to get the most out of that conference experience.
The holidays take up one spot in December. Not even work-related but it takes up a whole spot. Because the more I thought about this five project limit, the more I realized it isn't just about work.
Got a fresh baby? That's one or two spots on every month until your kid is 3.
Dealing with an aging parent? Fill in a spot. Or three.
Old Stephanie would have scoffed a bit at this research. Like "oh yeah the average person can only handle 5 projects, but me? I'm freakin good at this. Bring it on."
Old Stephanie burned out. Repeatedly.
Health is recognizing the limits of our capacity.
We can put a lot of pressure on ourselves (and each other) to be more, achieve more, ever ever more more. And even if we have wised up to the fact that ever more isn't sustainable, you're just left wondering, well, what is?
It's five.
Now we know.
Ok, ok. One research study isn't enough to warrant such strong words like knowing something.
But I'm going to run with this framework for a year and see how I feel.
Conversely, some students in Boost and Bloom, who are just starting out on their own, are struggling to juggle more than one project at a time. Like, your brain hyperfocuses on making sure this one project doesn't go off the rails.
Let this research be an encouragement to diversify your portfolio a little.
Small projects count. The researchers point out that part of the burnout comes from the administrative time and energy to run a project, no matter its size, and the task-switching between projects that sucks your brain.
So for people who only have one project in their laser beam and need to broaden their scope, small projects count.
And for people, like me, who need to rein it in and lower their project number, small projects count.
May we see this restraint as freeing.
In January, my 5 will be:
A two-day workshop with National Science Foundation
Dashboard development work with the City of Chicago
Coordination of a workshop with one of my staff for Centers for Disease Control and Prevention
Prepping for the re-launch of my one-on-one data viz coaching program, opening in March
Final prep for re-opening Boost and Bloom (I'm so excited!)
What are your five? Email them to me.