Hello My Fellow Perfectionist
This is the life hack that allowed me to complete monumental projects, like launching a business, finishing a dissertation, publishing books, giving birth. You know, the stuff that's really freakin hard. Emotionally, mentally, even physically. The stuff that shifts the course of your life, if you can just actually see it through.
The life hack is:
Done is better than perfect.
Perfectionism often comes from growing up in a culture where your flaws got a lot more attention than your triumphs.
This doesn't even have to be something that happened within your household. Just existing as a woman in the United States exposes you to the circumstances that can lead to perfectionistic tendencies. White culture, especially, values flawlessness – as if it's possible.
If you're told on repeat that you've fallen short in some way, you course correct. You raise your standards (because obviously they were previously way too low or you wouldn't have had a flaw) and you become a hypervigilant monitor of yourself.
You'll catch those flaws before anyone else notices them.
As a recovering perfectionist, I'm not gonna lie to you. Character traits like high standards and attention to detail have both prevented mistakes (like marrying that one guy who my friends hated) and driven many successes (like having a baby while finishing grad school).
But when you don't reign it in, perfectionism actually keeps you stuck in a standstill.
During dissertation days, Done Is Better Than Perfect played continually in my head. Because my perfectionism would have me thinking, "I bet there's one more journal article out there that would really take my literature review all the way to the top. If I don't fill this gap in my chapter, my committee will notice and I won't pass, journal reviewers will reject me, and all this work will have been for nothing. Let's head back to the library and dig for a few more hours."
Those thought and behavior patterns are fine once or twice. But when you're doing that on the daily – that's how you never finish your dissertation.
Too afraid my weakness will be exposed, so stay in "development mode."
If I don't move, nobody will see me. Yet that's the problem – nobody will see you!
To make great things for this healing world, you have to be seen.
You have to risk that there's a typo somewhere in the manuscript you haven't caught.
Indeed, after I wrote my first book, I got emails from eagle-eyed readers who said "on this page you said x but on that page you said y," or "on page 50, you wrote it's when you should have used its."
A perfectionist's worst nightmares, come true.
And that's after I read every word. Multiple times. As did my editor. And a copyeditor.
So it goes.
Those tiny errors don't take away from the book's impact. In fact, every email about a tiny error also said things like "I love this book so much, I'm absorbing every single word. This is changing my life."
The thing is: Your perfectionistic cultural upbringing means you won't put crap out there in the world. Your high standards will always prevent you from doing so. It's going to be good. You produce quality. Even if there's a typo.
So just focus on getting it done. Of course, give your work one thorough review (how could you not). Then hit Publish. Send the email. Launch the reel. Just go.
The world is waiting.
Small Projects are a PITA
Sarah posted in our group chat "Ok, I have to admit, I underestimated the budget for this project. They didn't have many funds and the scope was reasonable… but the admin! I'm spending almost as much time doing admin tasks as I am actually working on the project."
Yes, my dear Sarah. This is why small projects are a PITA (one of the only acronyms you actually need to know).
I'm not saying you should never take a small project, so don't hit reply and email me in all caps just yet.
Small projects are often the ones that steal your heart.
They're that local non-profit that you've always loved. They're the scrappy folks, just like you. 
You're in solidarity. So you say yes.
Then you engage in the same tasks you have to do for any project, no matter the size, aka, the administrivia.
Administrivia is all the little stuff that isn't directly about providing the actual service.
Paperworking.
The contracting.
Plan development.
Client hand-holding.
Filling out the time sheet.
Sending updates each week.
Getting into the vendor system.
Scanning receipts for reimbursement.
I'm allergic to administrivia. 
And the thing is – it's essentially the same for all-sized projects. Which means when the project is small, you spend a ton of time, relatively speaking, on the administrivia.
That's usually the stuff we don't account for when we're looking at our calendar and thinking "yeah, I can take on that small project."
The extra bonus sucky part about administrivia is that it isn't the stuff that lights us up. Our hearts glow when we're actually working directly with the client, not when we're chasing down payment on the overdue invoice. 
When we spend hours each week on administrivia tasks that we don't love, we feed the resentment monster and put out the welcome mat for burnout.
I got an email from someone in response to my 5 Projects advice, saying she is *happy* to have 15 small projects at once.
I'm definitely not trying to call anyone out, so I won't share any further details. You'll just have to trust me when I say that the tone of the email was like this: 
Her burnout was evident. Even if she truly loved each of her 15 projects.
Let's say you've got 15 small projects right now and you need to find a way to reduce the effort while still fulfilling your scope with the quality you're known for. Here's what you can do.
Cut down administrivia.
Reduce paperwork, like charge a flat fee instead of getting reimbursed and having to scan and email receipts.
Be honest "The size of the budget for this project doesn't allow for x. If you need that level of administrative oversight, we'd need to find more funding." And sometimes they will! But often they'll say "Ok no prob."
Consolidate efforts.
Is there a way you could turn this into a group thing? Like if you have several small projects and they all need a meeting about why you collect survey data in a specific way, can you get them all on the phone at the same time? If they all need a monthly update, can you schedule one 1-hour Zoom and assign each person a 15-minute slot? Can you negotiate to ditch the monthly update altogether? (After all, it's easy to argue that a monthly update is administrivia.)
Use this as an opportunity to build some systems. Are you writing the same messages over and over? What can you begin to copy/paste? Are you going for a 45-minute walk to psych yourself up for writing those emails asking when to expect payment on the invoice? Batch invoicing – write those emails all in one sitting.
Shoot bigger.
Start talks about phase 2 or contract extensions right now. Maybe you can turn this into a bigger package.
Seek out the funders, who can support your technical assistance for lots of their small grantees, but under one funding umbrella.
Aim for 1-2 big projects to replace a few small projects. That way you aren't completely ditching your tried-and-true bread-and-butter. But you'll get a better balance. I promise, you'll find heart-stealing projects that are bigger, too.
What else could you do to cut down on administrivia and make small projects more viable? Any ideas? What's your least favorite administrivia task? Email me. 
It can feel scary to level up your game and start going after bigger clients. Can seem like you'll lose your soul if you do. In Boost & Bloom, I'll teach you how to grow with your soul intact. Enrollment opens February 1. I'll open the doors early for people on the VIP list – and give ya a discount. Get on the VIP list here.
Your Limit is Five Projects
Breaking News: You can only handle 5 projects at a time.
New research out of University of Liverpool reports on analysis of 9,649 data points and it's showing that when you get beyond 5 projects, you start to lose your mind and burn out.
Isn't that incredibly helpful information?
Or am I the only one that finds comfort in being data-driven?
5 projects at a time. That's it.
So here's how I'm using this idea to plan for an ever calmer, more sustainable 2023.
As usual, I made my grid for the year, blocking out each month in a 6 x 2 matrix so I can plot out my projects and anticipated income.
In previous years, I'd just cram each month's square with all the projects I committed to and their associated revenue so I could track my monthly dollars and see the balance of my work across the year, on one page. Helpful, to be sure.
But this time around I made an adjustment: Each month is now a numbered list, 1 to 5.
Each workshop I book will fill one spot. Each consultancy. When the 1-5 has been filled for a month, I make a little x to show it's full. Then I tell clients "Oh sorry, May is booked. My next opening is in June."
And when I can see the whole year like this, I can also plot out unpaid events I know I'll have.
For example, here's my Fall 2023: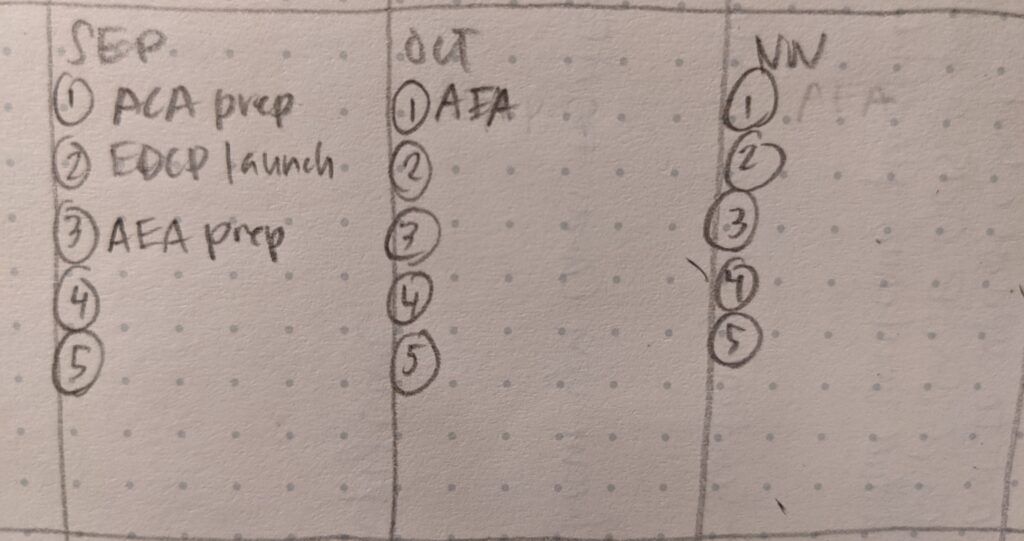 Usually my massive conference is held in November, where I market and network and make new friends and clients and hug all my people. It's the best.
It's also a whole project. It typically takes up one spot for November.
But next year they've moved it to October.
Which means my prep will happen in September, when I'm getting my talks together and planning the parties I'll host at the conference. Whew.
September is the same time I'm launching a course and prepping for the launch of another course.
Now I can look at September and recognize, months in advance, that I won't have much time for paid work. I won't overbook my September because I can only do 5 things and massive conference prep is definitely one of those things.
This means, if I'm following the 5 projects philosophy, that I have to take on one less paid project in September, in order to plan for one less paid project in October.
Gosh, that conference starts to take on a different sized budget.
Better make sure I'm working my ass off to get the most out of that conference experience.
The holidays take up one spot in December. Not even work-related but it takes up a whole spot. Because the more I thought about this five project limit, the more I realized it isn't just about work.
Got a fresh baby? That's one or two spots on every month until your kid is 3.
Dealing with an aging parent? Fill in a spot. Or three.
Old Stephanie would have scoffed a bit at this research. Like "oh yeah the average person can only handle 5 projects, but me? I'm freakin good at this. Bring it on."
Old Stephanie burned out. Repeatedly.
Health is recognizing the limits of our capacity.
We can put a lot of pressure on ourselves (and each other) to be more, achieve more, ever ever more more. And even if we have wised up to the fact that ever more isn't sustainable, you're just left wondering, well, what is?
It's five.
Now we know.
Ok, ok. One research study isn't enough to warrant such strong words like knowing something.
But I'm going to run with this framework for a year and see how I feel.
Conversely, some students in Boost and Bloom, who are just starting out on their own, are struggling to juggle more than one project at a time. Like, your brain hyperfocuses on making sure this one project doesn't go off the rails.
Let this research be an encouragement to diversify your portfolio a little.
Small projects count. The researchers point out that part of the burnout comes from the administrative time and energy to run a project, no matter its size, and the task-switching between projects that sucks your brain.
So for people who only have one project in their laser beam and need to broaden their scope, small projects count.
And for people, like me, who need to rein it in and lower their project number, small projects count.
May we see this restraint as freeing.
In January, my 5 will be:
A two-day workshop with National Science Foundation
Dashboard development work with the City of Chicago
Coordination of a workshop with one of my staff for Centers for Disease Control and Prevention
Prepping for the re-launch of my one-on-one data viz coaching program, opening in March
Final prep for re-opening Boost and Bloom (I'm so excited!)
What are your five? Email them to me.