40 Hours. Every Week?
Hey, quick question:
How the hell do people work 40 hours in a week?
Every week?
As I write this, I've just come from two entire weeks in Columbus Ohio, where I led a data viz workshop every single day.
I left my rental apartment at 8am and got back at 4:30pm. This is an 8.5 hour day, with a whole one-hour lunch in the middle.
So that's 42.5 hours per week at their office. (You know I was bringing multiberry muffins to the security guard by the end of my second week.)
About 10 days into this experience, I was texting friends with the same question I'm asking you:
How the hell do people do this?
In order to be out the door by 8am, I was getting up at 6.
Taking 20 minutes to stretch, foregoing my usual yoga routine and meditation time, but just doing the basic maintenance all my freakin physical therapists tell me I have to do before my body parts fall off.
Making coffee and brekkie and packing lunch. Taking the supplements and drinking the green powder. Cleaning up the kitchen.
Putting on all the makeup and doing all the hair (aka getting on the Hot Girl Hamster Wheel, as it's called on The Money with Katie Show).
And hustling down High St.
By the time I got back to the apartment at 4:30pm, I was famished, so I dove into dinner prep.
Running to the grocery store.
Spending perhaps an hour over the whole day connecting with friends and family.
Hitting up taekwondo twice a week.
Laundering and vacuuming.
Showering and grooming.
Sleeping 8 hours.
Totally unable to keep up with all the other emails in my inbox.
Entirely forgetting that I'm supposed to be researching a new car because the mechanic said mine could catch on fire.
Definitely not following up with the contractor on the bathroom repairs.
Barely noticing all these other Life Things that are just on hold for two weeks while I tread water, until I get back home to my way-less-than-40-hour schedule.
And that's without having to raise small children or care for elders or even take a dog for a walk.
Come to think of it, the only time of my life when I was able to put in 40 hour weeks was when I was a young adult with no family or responsibilities.
Beyond that time, I think we all have to sacrifice something to keep afloat in a 40-hour work week world. We skimp on sleep.
We grab convenience foods and jeopardize our health because there's literally no time to eat fresh.
We don't have hobbies.
We skip exercise.
We don't nurture our friendships.
We get sick a lot.
Something gives, because something's gotta give.
I don't see a way to live a healthy life and also work 40 hours a week. The math aint mathin.
Unless, of course, you have a partner who can manage your household and get your groceries and cook your meals and nurture your social relations. Unless, that is, you have a traditional wife.
Which were exactly the circumstances under which we got to a 40-hour work week. Our elders unionized to get working conditions DOWN to 40 hours. And that was a plausible scenario when people primarily lived in hetero households (even as they did whatever they wanted elsewhere) in which the husband worked and the wife did every fucking other thing under the sun.
In these modern times, a 40-hour work week simply isn't sustainable.
We don't need more articles teaching us about batch cooking.
We don't need another podcast extoling the virtues of a treadmill desk.
Enough with the efficiency hacks showing us how to shoehorn even more around and within and in addition to the 40-hour work week.
We actually need some of that time back.
At Evergreen Data, a typical work week is 26-30 hours and that's plenty.
40 hours is an outdated construct meant for a different society than the one we live in today.
Reason #4,325 why you need to start your own business. You set your schedule.
Then you go live your life.
A Halloween Horror Story
On the occasion of Halloween week, let me impart a bit of horror with a story about a mistake I made on my very first venture working for myself.
My maiden voyage was a client who I had also worked with at my full time employer. She was interested in some (cheap) design work that was outside of the scope of services my now previous employer offered.
I was going to design the pages of a textbook.
Why?
This was miles away from the work I knew how to do. On another planet. Not my circus.
But I said yes anyway because, as all new entrepreneurs do, I was desperate to make sure I could pay the bills.
The Terms of the Contract
I wrote up a contract that said I'd get:
20% of the total cost upon delivery of the mockup of a dozen key pages.
50% at the delivery of the full first draft.
30% at the conclusion of the work.
We sign, I break open the champagne.
The Reality of the Contract
The next morning I crack open my laptop and get to work.
Within two weeks I had a dozen pages I was happy with and shipped those over to the client.
She took about a week and then got back to me with:
"Thanks – these look good. We've got it from here."
Me: "I'm so glad you love the layout. I'll get started on the full draft."
Her: "Sorry that wasn't clear. We don't need you to make the full draft. We've found a grad student who will work from the models you set up and create the rest of the book."
What would you do here?
The Terms of the Contract, Revisited
I scrambled to the contract. Yep, there WAS a cancellation clause! Got you!
Oh wait.
The cancellation clause said that either party could cancel with a 10-day notice and that the contractor (me) would be compensated for the work completed to date. (This is actually very boilerplate – contracts are not designed to protect the contractor.)
Which means, yep, I was stuck with 20% of the compensation I was counting on (all those bills to pay) even though developing that 20% took the vast majority of the intellectual work.
The client was completely within the bounds of the contract, though both the contract and the client's use of it (I can now see) were ethically questionable.
What would you do here?
I cried. I got mad. I wallowed in the injustice for a day and then I set about finding more work.
And I embroidered this experience into my mentality. Lesson fucking learned.
Ok, friend, here's what you can do to keep yourself out of this mess in the future.
Negotiate better cancellation terms. What could it say? I don't even know. Because you don't want to get in a rare situation where YOU need to cancel but can't because you wrote out a clause that's too restrictive. I'm actually not sure there's much you can do here, but maybe you'll think of something creative and contract lawyers can help.
Reallocate the percentages and due dates. I'd ask for a percent of the contract at signing (pay bills). I'd ask for a much higher percentage due at the mockups. My allocations would look something like this:

15% due at signing
60% due at mockups
15% due at first full draft
10% due at final full draft
This way, you get the bulk of the payment when you deliver the bulk of the intellectual property. If your client ever pulls what happened to me and ditches you upon receipt of the mockups, you're only out 25% (which would still suck, but not as much).
Your pay isn't connected to your time. It's connected to your intellectual property.
Want a postlude? It became clear to me that this client honestly hadn't thought she'd done anything wrong or morally questionable. Because a year later she reached out and asked me to work on another project.
Saying Yes with Ama Nyame-Mensah
Ama Nyame-Mensah DMd me with a super juicy comment: I think I have some prospective clients who are breaking the No Assholes rule.
Let me back up: Ama is a student in the first cohort of my Boost & Bloom course for entrepreneurs and she knew that my three rules (passed to me from my mentors, who had it passed to them) are: Fun, Lucrative, No Assholes.
Let me back up further: Ama runs a company named Analytics Made Accessible (handily acronymed AMA – get it?). It's a few years old now. Ama and AMA help people explore, analyze, and communicate their data more effectively, primarily by teaching folks to create compelling charts and share data stories that matter.
A company after my own heart.
And most of the time, I see young entrepreneurs so stressed about paying the bills that they're saying yes to everything that even remotely looks like it could contribute to cash flow, even if the prospective client is kind of a jerk.
But not Ama.
Stephanie: Ama, you've clearly done the internal work to know your boundaries and to be able to spot a jerk from a mile away. What exactly is on your red flag list?
Ama: I will never forget a piece of advice my sister Akua —an Executive and Leadership Coach—shared with me a couple years ago: "If you say yes to everyone, you're always saying no to yourself."
Stephanie: I'm reading that again.
Ama: And she's right.
When I first launched my business, I said yes to everything and everyone. I didn't care who I worked with as long as I got my name out there and made money—bad idea. I was saying yes to projects that weren't a good fit and clients who didn't respect me.
The result: I was miserable.
Hustle culture tells us that overworking and accepting mistreatment from demanding clients are necessary to achieve success. Working with difficult clients who disrespect you and your boundaries and undervalue your expertise will ruin your business and wreak havoc on your financial and mental health.
Stephanie: Give us an example of client disrespect. I'm hoping others will read this and start to recognize when it's happening to them.
Ama: I'll share two flavors of disrespect.
Flavor #1: Not valuing my time.
I once had a prospective client reach out to me, looking for an external evaluator for a project.
I will not lie; I initially disregarded the message and sent it to my junk mail because I thought it was spam. But curiosity got the best of me, and I responded to the email, thanking them for sharing the opportunity and setting up a time to chat about the project.
Readers, I kid you not; over two months, this individual rescheduled on me FOUR DIFFERENT TIMES (including once right as we were supposed to log into our scheduled Zoom meeting)!
And if you're wondering, we never connected about the project.
Then, three months after not connecting with this person, I got an email "thanking" me for my interest in the consultant position (huh?) and completing and submitting documentation (I never submitted any paperwork) …BUT they had decided to proceed with another party. (I got a good laugh out of that one.)
Looking back, the biggest mistake I made was going back and forth, sending multiple Zoom links to a prospective client who was never interested in working with me.
Life happens, meetings get moved, deadlines get shifted, etc. And I cannot penalize someone simply because they're late…once (maybe twice). But when someone repeatedly reschedules, postpones, or does not show up before becoming a client, you can guarantee they will do the same once you start working with them.
Bottom line: Don't work with people who do not respect you or your time.
Flavor #2: Rude and unkind.
A couple of years ago, someone approached me to lead a potential project their team had been kicking around. They were attached to a cool group, so I was excited about collaborating with them. So much so that I let a lot of things slide that I shouldn't have.
By the time I realized something was very off, I had already done several months of free work with no contract in place. But I thought: No worries; we had talked about them paying me for the work I had done to shape the project upfront after pushing the paperwork through.
Readers, that never happened.
When the paperwork was almost complete, everything fell apart. The organization spontaneously came up with a new deposit policy, which they promptly blamed on legal. And when I reached out to have a conversation with my point of contact, the conversation went horribly, horribly wrong.
What I hoped would be a moment for us to come to an understanding about my boundaries and a reiteration of what we had previously agreed to devolved into a weird conversation where they casually dropped that I should be grateful that they would even consider working with me on a project like this.
Rude much?
Remember, you are a business owner. You do a job, get paid, and the cycle continues. (That's not to say you cannot forge long-lasting, mutually beneficial relationships with your clients.)
But some folks will make you think they are doing you a favor by working with you, even though it's work they want (and usually need) done. Clients you partner/work with are not doing you a favor. There is no "favor" in business. People value what they pay for, and they pay for what they value.
Bottom line: Don't work with unkind people.
And Stephanie's bottom line: No spec work! No work before the contract!!
Now that I've been burned a few times, I know to look for these positive signs that someone (or an organization) will be a good partner:
Collaborative: At the heart of any successful collaboration are communication and transparency. I am always excited by open-minded clients interested in working together to experiment and discover what works and what does not. Data + Design work is iterative, so partnering with folks open to hearing and giving feedback is key.
Kindness: To some, respect can be bought. For example, if a client is purchasing your services, you (the consultant/entrepreneur) have to respect them while they can treat you (and their staff!) however they please. When I talk with prospective clients, I watch (and listen!) to how they interact with each other and me. People who treat others with respect and kindness are more likely to treat you with respect and kindness.
Follow-through: Anyone can talk a good talk. But good prospective clients walk the walk. Verbal commitments are great, but they mean nothing without consistent action. This is where follow-through comes in. Follow-through is the key to creating trust in a new relationship. It lets people know you are serious and that you value their time. Follow-through at the beginning of a client relationship can be as simple as honoring meeting end times or demonstrating a commitment to a project by sharing a project description or proposed budget.
Knowing how you want to run your business, the types of clients you want to partner with, your values, and being comfortable communicating your expectations and boundaries will make you a happier entrepreneur.
What would you add to your Yes List? Tell Ama!
You Don't Have to Be Passionate
I know this sounds impossible, but hear me out: You don't have to care about the product you sell.
Honey, I can hear you saying "Why the heck would I quit my secure 9-5 to launch a company if I don't care about the product? Like, deeply care. Like, maybe even more than I care about my spouse."
Let me tell you about an entrepreneur I know – we're gonna call him Kevin.
In college, Kevin needed some cash flow so he literally googled "low-cost small business ideas." He got loads of results with titles like "25 Easy Small Businesses" and the whole concept seems totally laughable to me but hang on.
He's scrolling these lists and kinda just randomly picks one. It's now so famous that I'm gonna make up his product for the purposes of his privacy: cheap earbuds you can gift people who insist on Facetiming in public.
Even though I think speakerphones in public should be a crime, Kevin doesn't care at all. It's never even crossed his mind that this is an issue.
But he launches the company anyway, constructing cheap earbuds in his college apartment living room.
They're wildly popular, so pretty soon he's shopping for a production facility and a warehouse. He hires management and marketing people who care deeply about how your conversation with your BFF while she's in Portugal belongs to just you and your bestie.
The company skyrockets.
They produce earbuds in different colors. They enter into branding agreements and generate logo-ed styles. Everything's coming up Kevin.
Is this when the plot turns and we discover that Kevin's lack of passion for earbuds means that he never listened closely to the consumer, thus leading him to mistake after mistake?
Not at all.
In fact, when the data showed that the brown sparkle version wasn't selling, he immediately chopped it. Even though it was his favorite.
He lacked an emotional investment that would have otherwise caused him to stay on a sinking ship.
Sometimes being indifferent to the product can give you a better sense of objectivity, a clearer mind for that critical decision-making.
Most entrepreneurs plant their own flags because of how much they love the actual work.
This is a terrible idea.
You'll never spend your whole day just chilling in your office, grinning ear-to-ear while you just do the actual work. You'll be sending invoices, developing systems, creating a vision, and marketing your ass off.
Going into business because you're passionate about the actual work is a bit Pollyanna.
You don't have to be as actively dispassionate as Kevin, but you gotta respect the way it's helped him.
In grad school, I remember my shock as one of my fellow classmates defended her dissertation, where she hadn't done much of the actual work. She hired out her data collection, analysis, and report-writing.
I'm like "You can get a whole PhD without actually demonstrating you know how to conduct a study?"
Her advisor said "Of course. Think about it: Most scholars aren't out there transcribing their own interviews. They hire grad students. You don't have to actually do the work. You have to know how to design the process and guide others to success."
Hm.
Hmmmmmmm…….
Actually, yep.
In fact, that's what CEOs do.
Unless you're watching Undercover Boss, the CEO isn't – nay, CAN'T – spend their days in the weeds, cooking the fries, packaging the earbuds, or coding the focus group data.
Instead, they have to focus on listening to customers, setting the tone, creating the culture, establishing the high-level plan, and developing the systems to stay on the pulse. If anything, that's what Kevin is passionate about.
Earbuds could become obsolete this afternoon and he'd have the infrastructure to start up something else tomorrow.
Have I convinced you at all that perhaps a little bit of dispassion could be helpful?
If you're still thinking something like "the secret to my success is that I care about the product" that's ok – keep the passion. But be very clear that you'll also need to grow passionate about backend business matters and get comfortable murdering your darlings.
No Bar, No Pizza
Summer 2023 I was one of the swarms of Americans who knocked around Italy for vacation.
Venice, though beautiful, was shoulder to shoulder with tourists. It felt like being in the world's loveliest but most popular nightclub. If there could be fire codes on sidewalks, Venice would have set off alarm bells.
That's why No Bar, No Pizza impressed me so much.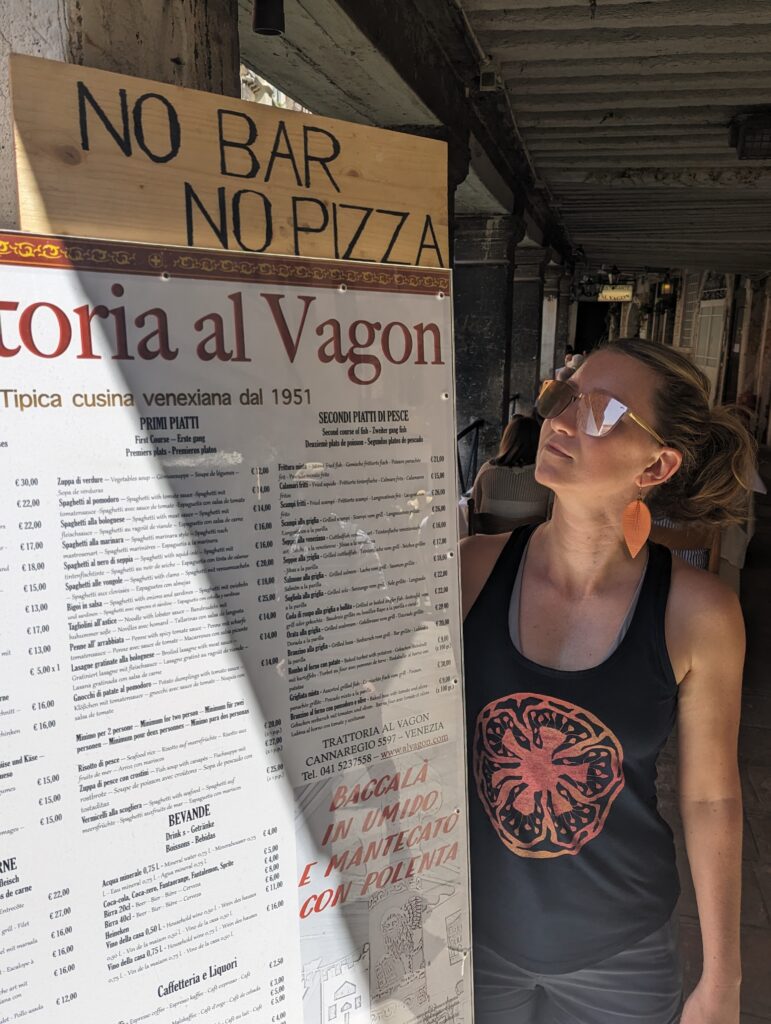 Trattoria al Vagon is a well-regarded restaurant, right on a canal, serving traditional Venetian food. It's the kind of place where you need a reservation for dinner.
But they're also on a main thoroughfare with throngs of people shuffling by shoulder-to-shoulder throughout the day. If you're thinking profitably, it would make sense to open earlier in the day. Even all day, since these tourists are jet-lagged and their stomachs don't know what time it is.
So they compromised a smidge and extended the hours to attract the pockets of people walking by.
And then swiftly realized these tourists have no taste.
All they want is pizza and an aperol spritz at 10am.
Would you appease this clientele even further and install a pizza oven and a bar?
It would mean more capital investment.
It would also mean compromising your quality, your reputation, your ethics – that much more.
They said no.
And posted a handmade sign in large, all caps, English language letters: No Bar, No Pizza.
Don't even come sit down and waste our staff time if that's what you seek. There are 100 other restaurants within spitting distance that can meet you exactly where you are.
That's called boundaries.
Every business needs boundaries – a clear delineation between what you will and won't do.
You need them because you were likely raised to be a people pleaser so it's engrained into your personality to bend over backwards for every person who knocks at your door, even if it causes you back pain. And exhaustion. And resentment.
Your best path forward – the path that saves you time and sanity – is the one where you get clear about your boundaries and then communicate them very early on in the process so potential customers can self-select out if their needs don't match your services.
You need a wooden sign that says No Bar, No Pizza.
I write my boundaries down, because otherwise I'm likely to forget that I made them. That's how I navigated through a recent situation where a potential client asked me to teach Power BI workshops for beginners, intermediates, and advanced students.
For a day I deliberated.
Then I remembered that I'd have to stretch myself to teach those workshops and they're technically outside of my wheelhouse. I remembered my boundaries. And I referred this potential client to a colleague.
Boundaries are how I knew how to respond to a potential client who was pressing me to schedule a workshop before the end of the year, even though I'd already told them I have no availability.
Could I have found a way to squeeze them in? Sure.
But it would have hurt. There's a reason I already put a boundary in place about no more work this year.
So, my friend, what's a boundary you need to put in place to protect your time, energy, and mental health? Write me with your version of No Bar, No Pizza.
Entrepreneurial Seasoning
When I taught a free class on making more inclusive data visualization, I got a TON of responses that fell into one of three buckets:
This class was AWESOME!
I missed the class, where is the recording?
This class was terrible, you were wrong on all these points, being exclusive with these suggestions, and neglected to mention these ideas.
It's how I respond to the third bucket of comments that let's me know what season I'm in with my business.
Expand or Contract Audience Season
My response, at that point in time, to the five paragraph paper of an email with bolded headings and numbered lists detailing my misgivings… was a chuckle. It's nice that people are so passionate about such an important topic, I thought to myself.
I was in a season of wanting to expand my audience by offering new content, pushing people's thinking, and getting comfortable being a lil controversial.
Without a doubt in my mind, I have also offered new, lightly controversial content in the past, where I got responses in all 3 buckets and my reaction to bucket 3 was fuck this shit.
I had been putting myself out there when I was in a contracting season. Good intentions, wrong timing for my spirit. All I wanted to do was scream I'm trying my best and If you don't like it, go elsewhere – this was a FREE class.
That's vastly different than a chuckle.
As important as it is to show up in the world with consistency, I've learned that I also have to watch out for changes in my seasons. Heck, I had to learn that I actually have seasons.
We all do.
Audience growth seasons are one version, but we go through others, too.
Expand or Contract Staff Season
When my staff finish a workshop and get an email like "It was truly one of the best and most practical training courses I've taken during my career." it feels SOOOOoooooo good. Me and my staff just doing this at each other over in Slack:
I freakin LOVE having a team that can help me reach more people and get more good data viz out there in the world.
Teams bring a bigger impact.
You know what else teams bring? Problems.
Needs.
Management.
Which – of course! They need guidance from the boss. Makes total sense.
Despite ever better systems and procedures, from time to time I still end up being an absolute bottleneck for my business.
One option is to hire more help, like a COO, and expand even further. This is what Nina did.
It's also perfectly ok to decide that sounds like too much work.
I'm not a great manager. I don't even want to manage. I want to be the one in every workshop, passing out the high fives to my students. I have my seasons where I want to shrink the team and be a one-woman show.
But then I think about all the people I wouldn't be able to help… And it's like that, back and forth, forever.
Entrepreneurial Seasoning
You can probably identify other areas of your business where you catch seasonal feelings. Like growing or whittling the services you offer.
If you've only been in growth mode so far, hang on – winds will shift. That's not a bad thing. Mary Poppins came in on a change in wind direction, after all.
Jereshia Hawk made a great point on her podcast: If you've only seen growth mode and your revenues have been jumping more than 30% each year, you might need to make yourself take a maintenance season.
Seasons can last months. Or hours.
It's so tricky. So here's what to do:
Recognize when a season is changing. You can usually tell by your reactions to common events.
Recognize that this is just a season. It won't last forever. Take advantage of the season you're in, while you're there.
Do you have different seasons than the ones I listed out here? What season are you in right now? Email me – I can relate.
We Need to Talk About Alan Wei$$
I don't like trash talking people. Publicly. Come to my house with some guacamole and I'll make margaritas and tea all day.
But this one feels important.
Like so many beginning entrepreneurs, I was advised by well-meaning, more established friends to seek the counsel of Alan Weiss. He's the Million Dollar Consultant (TM). He's the consultant to consultants (TM). He's prolific and heavily trademarked.
This dude's work appears in every Top 10 Books for Entrepreneurs list.
He has enough decent advice to fill one book. But his publishers know that suckers like you and old me will purchase anything he produces so he's got a string of books, all very slight redigestions of his first.
I'm not linking to his work here because I think he's trash but if you're nosy, he's easy to find.
Some of his philosophy sticks with me today. I remember how he sells the idea of working from anywhere. Take a prospective client sales call from Tahiti. Why not? In this digital age, we entrepreneurs have the advantage. Just be able to turn around a proposal in 24 hours.
He's right. A few years back I hit send on a contract worth $60K, then closed my laptop, picked up my mai tai, and smiled at the ocean. It was as awesome as he said it would be.
So what's the problem?
A Bearing Fruit reader said it best. When I wrote about Things I Quit and asked yall to tell me what you quit, I got this reply:
"I quit comparing my business to others and reading business books by self-aggrandizing white men like Alan Wei$$."
Yup.
This dude's ego is so gross. After all, his social media handle is the name of his favorite luxury car. The cover photo on many of his books: him, grinning ear to ear, leaning on the hood of said luxury car.
It's bravado and machismo and that's not the model I want to follow. Back when I started, I didn't know there was another way.
He calls himself the Contrarian Consultant (TM). As if his notions somehow go against the grain. They don't. In actuality, his use of the label "contrarian" here just means he gives himself permission to be a total jerk.
I don't follow him but somehow this ended up in my feed on LinkedIn. Resham, who is no longer on the platform, posted a pretty innocent poll.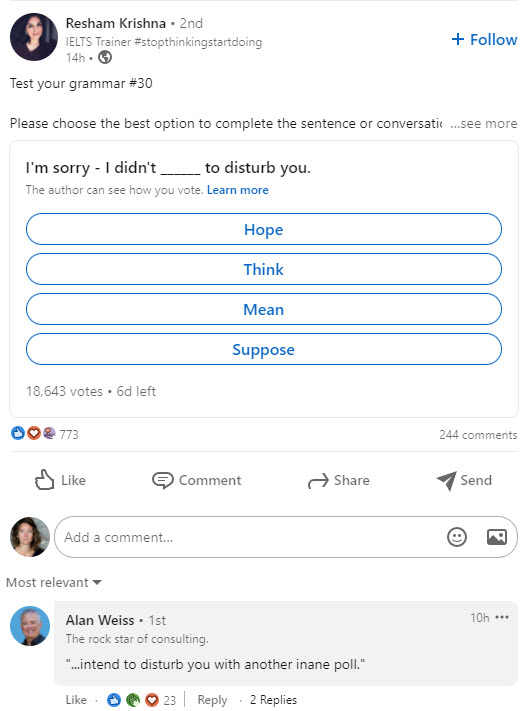 Do you see his response? WTH?!
And what world class consultant (TM) spends time trolling randos on social media?
AND so many people blindly follow him that no matter what he posts, even a rude comment, he'll get likes and endorsements.
The first lesson here: Punch up. If you're gonna publicly trash someone, do it to those who are way above you (like I'm doing right now). When big names punch down, it's like a high schooler beating up a first grader. You're a bully.
The second lesson: You've gotta be discerning about the people you follow. Sure, the advice might be good – but if they have the personality of a hot baby diaper, some of that will stick to your ribs, too.
You know how people say your personality is the average of the 5 people closest to you? It's kinda the same for who you choose to follow. Choose wisely (not Weiss-ly), ok?
To take that just one step further, who you like and endorse on socials actually does matter. For example, if you've been warned that that one dude is a creep but you keep collaborating and promoting his work on your platforms, you're a creep by association.
I know that for many people of color and white women, we felt like we haven't had much of a choice. Self-aggrandizing white men and our proximity to them has historically been how we've been able to protect our own status and progress.
That's how we end up with 51% of white women voting for Donald Trump. They don't necessarily love Trump. They're reliant on their white husbands for their livelihood.
We can choose a different model. I hear the risk involved. The risk is lessened when we stick together.
Here's the bottom line: Let's stop supporting a$$holes.
What business books are you into these days? I'm reviewing a few right now. Email me with your best suggestions and I'll compile a list.
Batch, Please
Working from home has so many upsides: a 30-second commute, a dress code that includes slippers, and free cat pets all day long.
Working from home also has a major downside: Interruptions.
UPS ringing the bell with another delivery. My partner telling me he's going out. Even good interruptions like a delicious hug from my teen before he goes to school and that purring cat finding a home on my lap – still interruptions.
When our brains have to switch gears, even momentarily, it takes us a ton of time to get back on track – like 25 minutes to refocus and get back in the groove. For every distraction.
This article from the American Psychological Association says we lose 40% of our productivity when we task switch.
There's a switch cost.
While I'm tempted to put a KEEP OUT sign on my office door, I have to admit that it's me. Hi. I'm the problem. It's me.
Like, just now, in real time as I'm writing this to you, I stopped writing after "It's me" and sang a little Taylor Swift in my head, checked my email, picked up my phone, read a story about how China says it successfully cloned 3 highly productive super cows, and then stared at the keyboard for a while. Why? I even knew what I wanted to write next.
I think I'm not alone.
We're all highly distractable.
Our brains are delicate little things. If they start to get overwhelmed, they check out. Our sweet lil brains are actually trying to protect us by being so weak. We can't totally eliminate this issue. But on the other hand, I don't really have 25 spare minutes to give up for every distraction in my day.
Our weak brains are why multitasking doesn't really work. If I'm cleaning my desk while "watching" a webinar, I'm not going to pick up most of what the speaker is saying. Even if I believe I'm listening, as in, I could repeat back their last few words, those words don't have a chance to land in my heart and resonate. Because I'm divided.
Single-tasking, or monotasking, is always more effective. It's that seemingly contradictory notion that you have to slow down to make progress. One thing at a time, done well, is more productive and effective than two things you half-ass.
Even though Taylor Swift is still running around in the back of my brain somewhere.
The way to make single-tasking really work for you:
Batch.
Batching means you collect all the very closely related tasks and do them in the same span of time. A single-tasking streak.
Let's take every entrepreneur's favorite job: Chasing down clients who owe you money.
Step One: Psych yourself up to address this. That'll take an hour and a latte run.
Step Two: Open your computer, get into your invoicing program, and locate the unpaid invoices and the date you sent them.
Step Three: Dig through your emails to find the last time you communicated with that client.
Step Four: Write an email that perfectly balances humor and professionalism while thinking to yourself "eff you, pay me."
Step Five: Reread it five times. Remove some exclamation points.
Step Six: Hit send.
Ok so if you chase one invoice per day, girl that's your whole morning.
But if you batch your invoice-chasing all in one sitting, you at least don't have to repeat the costly steps one and two over and over. The time it takes to write the second email will be a fraction of the first because you already did all the hard work (and who am I kidding, I know you're gonna copy/paste).
I block my batches in my calendar.
Today, for example, is blog writing day. I'm in the zone and I stay here, just writing love letters to you. I don't have to re-get in the zone for each new post.
Big Boss Time is when I have to make hard policy decisions, write difficult emails, and fire clients.
Follow Up Hour is when I reply to all the folks who contacted me looking for workshops.
Video Day happens because I want to get into full hair and makeup as infrequently as possible.
My brain feels less stressed and more streamlined when I batch my work. Batching reduces the switch cost.
What could you be batching? Give your batch time a fun name and then email it to me.
No Regrets
This is going to sound like a bummer way to start but hang with me, it'll be brief: My grandma passed to the other side recently. You don't need to email me with condolences. It's all good.
I didn't realize, when I hung out with her the night before, that I'd be the last one to speak to her. She was retrospecting on life. I asked if she had any regrets. She broke out into a big smile and then fell asleep for a few minutes.
The same day I was visiting my grandma, Big Think published this article on the Harvard Study of Adult Development. The Harvard study and several others that track humans for decades produced similar findings: Life happiness is found in the quality of our relationships.
You've probably heard this before. If you're like me, you're already thinking "yeah, yeah," with your hand on your mouse, ready to go scroll Instagram. Hold on.
If you want to be satisfied with your life, you've gotta invest in your family and friends. This is terrible news for people like me who have a hard time making new friendships as an adult.
The Big Think is careful to clarify that loneliness, which is what kills you, is "people who are more isolated than they want to be." So if you LOVE being by yourself, do you, Boo. That's a little freeing, right?
As long as you're being honest.
If you think you'd like to be a little less isolated, let me tell you what I've been noticing.
People place bids.
Bids are tiny little invites to connect.
Perhaps a decade ago, I got new neighbors. They were from Montana. They raised backyard chickens that we'd watch when they went home for the holidays. She worked remotely and when she found out I was also typing away in my house all day, she said "Hey if you ever want to take a work break, hit me up and let's go for a walk or something."
Looking back now, I can see that was a bid.
I never took her up on it. I wanted to, sure. But there was always some Pressing Work Thing I needed to attend to instead. That's what serious CEOs do. They don't just vacate the office when there are Important Emails to be Answered.
A few years ago, they moved back to Montana because they missed the community.
Now I'm not saying I could have changed the course of their lives or something, but I definitely could have closed the laptop and enjoyed the company for 45 minutes once a week. You walk with someone for 5 years and you form a bond. (Also, just sayin, I coulda used the exercise.)
Work will always be there. The opportunity to create those life-satisfaction-building-connections will not.
I missed the bid and I regret it.
Now I look out for them and I intentionally bid all over the place. Lunch on Friday? Yes please.
Happiness requires a mindset shift for entrepreneurs.
There's a very American work ethic we're subscribing to, whether or not we're aware of it.
Work hard now for future rewards.
Nose to the grindstone gets you a massive nest egg and a glorious retirement. Right?
Except whatcha gonna do with all that money and free time? Hang out with… who, exactly? Those friends you never nurtured along the way?
Please be cautious of promises of future reward.
Shifting our mindset would look like:
Blocking out four weeks of vacation in the year, even if you don't have a destination in mind, even if you just stay home and enjoy the quiet time. Pick whole weeks or block out every Friday. You'll figure out what to do with the vacation days, trust it.
Scheduling friend dates during the "work day." Go for that walk, hit up that Indian buffet. I promise, you'll feel like you had a good day.
Eating on the good plates and drinking out of the good cups. I know you normally reserve those for special occasions but I'm confident you can find something to celebrate every day, if you look for it. Today I finally took my dress to the tailor. Celebrate your accomplishments!
Giving people their flowers, while you can. Don't wait until your colleague tells you she's quitting to say "Oh shoot, I really like working with you." Tell her now. Glow up that professional peer on your socials. Take a deep breath and tell your grandma exactly how she made your life better.
Let's have faith in the fact that this isn't going to turn into some YOLO sprint to bankruptcy court. You're committed to growing your business and building a legacy.
It's just that the legacy we leave for the next generation shouldn't just be a big bank account. It should also be an example of a life well lived.
What You Need to Start a Business
This issue is about the third question budding entrepreneurs ask me.
The first question is "How do I price myself?" which is understandable but the wrong place to start.
The second question is "How do I find clients?" which is actually what seasoned entrepreneurs need to be asking, too.
The third question is "What do I need to start a business?" and it's the same thing I still need every day after running my business for 13 years:
Grit, tenacity, and an unwavering trust that you'll figure it out.
Contrary to popular belief, it is not a six-month runway of savings.
While that's comfy, sometimes it's actually TOO comfy. The pressure of a rent payment will light a fire under your tush and activate your tenacity in a way that nothing else can.
That route is not exactly for the faint of heart. It's just to say that you do not need investors to start or grow a business.
If you don't have six months saved, you will find out how efficient you can truly be.
You also don't need to have a stack of clients lined up.
I promise that a lack of clients will force you to put yourself out there in a way you wouldn't if you were being safe. And even if you get rejected by your first 10, each one of those rejections is a rich lesson in what you need to tweak ASAP.
You don't need to look like Elon Musk, Mark Zuckerberg, Jeff Bezos or any of the other privileged people who seem to have it easy.
The adversity you have faced in your life is your strength. It's where grit comes from. Grit is what you need to keep going when you get that 10th rejection.
Don't get me wrong, getting comfortable with rejection is no pizza party. I've had more fun writing out my will.
Even these days, 13 years into starting my business, I still have dreamy potential clients turn me down.
You wanna know what helps? Normalizing it. Take a deep breath and email me about your last rejection.
You bring your grit, tenacity, and unwavering trust. I'll bring the support.
Hello My Fellow Perfectionist
This is the life hack that allowed me to complete monumental projects, like launching a business, finishing a dissertation, publishing books, giving birth. You know, the stuff that's really freakin hard. Emotionally, mentally, even physically. The stuff that shifts the course of your life, if you can just actually see it through.
The life hack is:
Done is better than perfect.
Perfectionism often comes from growing up in a culture where your flaws got a lot more attention than your triumphs.
This doesn't even have to be something that happened within your household. Just existing as a woman in the United States exposes you to the circumstances that can lead to perfectionistic tendencies. White culture, especially, values flawlessness – as if it's possible.
If you're told on repeat that you've fallen short in some way, you course correct. You raise your standards (because obviously they were previously way too low or you wouldn't have had a flaw) and you become a hypervigilant monitor of yourself.
You'll catch those flaws before anyone else notices them.
As a recovering perfectionist, I'm not gonna lie to you. Character traits like high standards and attention to detail have both prevented mistakes (like marrying that one guy who my friends hated) and driven many successes (like having a baby while finishing grad school).
But when you don't reign it in, perfectionism actually keeps you stuck in a standstill.
During dissertation days, Done Is Better Than Perfect played continually in my head. Because my perfectionism would have me thinking, "I bet there's one more journal article out there that would really take my literature review all the way to the top. If I don't fill this gap in my chapter, my committee will notice and I won't pass, journal reviewers will reject me, and all this work will have been for nothing. Let's head back to the library and dig for a few more hours."
Those thought and behavior patterns are fine once or twice. But when you're doing that on the daily – that's how you never finish your dissertation.
Too afraid my weakness will be exposed, so stay in "development mode."
If I don't move, nobody will see me. Yet that's the problem – nobody will see you!
To make great things for this healing world, you have to be seen.
You have to risk that there's a typo somewhere in the manuscript you haven't caught.
Indeed, after I wrote my first book, I got emails from eagle-eyed readers who said "on this page you said x but on that page you said y," or "on page 50, you wrote it's when you should have used its."
A perfectionist's worst nightmares, come true.
And that's after I read every word. Multiple times. As did my editor. And a copyeditor.
So it goes.
Those tiny errors don't take away from the book's impact. In fact, every email about a tiny error also said things like "I love this book so much, I'm absorbing every single word. This is changing my life."
The thing is: Your perfectionistic cultural upbringing means you won't put crap out there in the world. Your high standards will always prevent you from doing so. It's going to be good. You produce quality. Even if there's a typo.
So just focus on getting it done. Of course, give your work one thorough review (how could you not). Then hit Publish. Send the email. Launch the reel. Just go.
The world is waiting.
Security is an Illusion
The day I got called into a meeting with HR, I realized security is an illusion.
My boss was upset that I had started blogging. I had, in fact, blogged about an issue we had on one of our projects, though I didn't name names or publish anything identifying. 
If he had foresight, he would've seen my blog as a potential opportunity to market our work. To position us as thought leaders. Contributing to the field's discourse. 
After all, it's that blog that led to my books, which grew my consulting business, which got me to where I am today, which is pulling in 20x what I used to make when I worked for him.
But I'm getting ahead of myself.
My boss and someone from HR told me that if I didn't delete my blog from the internet, completely shut the whole thing down, they'd write me up.
I was confused. We're at a university. What does a write up look like? What are the implications?
HR said the write up would go in my permanent record.
I sat there, waiting for them to tell me the consequence. Then I realized, "Oh that *is* the consequence." As if I care what's in my permanent record. You're talking to the girl who skipped 27 days of the first semester of my senior year of high school.
As I tried to suppress my laughter, I realized this whole thing was flimsy.
I already worked, alone, to bring in grants and contracts that paid for my salary. And covered part of all the admin salaries. Including my boss's salary.
I brought in more than enough money each year to pay my way but a few weeks earlier my boss had still announced, to everyone, that if there was ever a gap in our grants, like if one didn't start for a month after a previous grant ended, we wouldn't get paid. Even though we were salaried employees.
I'm tellin ya, the blog threat was the ace on the top of what I could now see was just a house of cards.
There was no security there for me.
The desire for security is what keeps some people content to show up day after day, wearing the same khakis, pushing the same buttons, having faith that the work will produce a paycheck that will keep them safe.
Security is what keeps people with good ideas from becoming entrepreneurs.
I get it. But it's a myth.
Stripe just laid off 14% of its workforce.
And the list goes on. Most of those folks probably thought they had security.
But your job doesn't love you, no matter how loyal you are to it.
It's only after I started my first business that I realized entrepreneurship is the most secure path.
The only thing I can rely on, for sure, is that I can go find another client. If I have a bill to pay, I have the autonomy to say yes to another project, put money in my pocket, and pay that bill.
I can't get fired. There's no permanent record.
No one can tell me not to market or network or make a pitch.
Security is knowing that I construct my future.
The reality is both self-employment and other-employment can be insecure. It's just if you're self-employed, you can do something about it. 
So don't let the false comfort of security keep you from launching into your dream job.
Sure, there are a lot of unknowns. In my Boost & Bloom course, we articulate every single thing you need to know. We walk you through every decision.
You gain confidence. And clarity. And security.
Boost & Bloom is closed for enrollment right now but get your tushy on the VIP list and you'll get first access next time around.
Looking Forward to Freedom
I got to cutest, most sweetly naïve DM from Angela:
"Can I have my own business and also have a lot of time off, especially in the summers, to spend with my young children?"
What would you say to Angela?
My reply was "HELL YES! That's kinda the whole idea!"
When you work for yourself, you get to create the life you want to live.
In a big picture sense, that means you aren't necessarily tied to a specific geographic location – you can work wherever you want, in theory.
In a small picture sense, it means you have the freedom to construct each day of your life on your own terms. However you want it to go. You get to make it up!
I freakin love that level of autonomy.
Angela will too. Because it means that if she wants summers off with her kiddos, she has the freedom to book all of her clients during the school year, even during school hours, so that when the bell rings, she's there to pick them up.
It might seem like this is only possible if you work in a digital consulting space, but not so.
My all time favorite pizza shop closes for entire weeks out of the year so they can all go on vacation.
The framemaker a few blocks from me put up a sign that said "Out for the summer. Reopening September 5. By appointment only." The quality of his work is so high and people are willing to pay a premium for it, that he can have a brick-and-mortar that's only open for appointments.
In a more micro picture sense, the way you structure each day is a part of the freedom entrepreneurship gives you.
Lots of newbie entrepreneurs initially set up their days to mimic whatever corporate or academic environment they came from. 8 hours a day, butt in chair. Work through lunch. Clock out at 5.
And if that's your jam, rock out.
But you've got options.
You've got freedom.
My daily structure has changed with the seasons of my life. When my kid was younger, I mostly followed the school day schedule, working 8-3 each day of the school year and 10-4 during the summer, getting in exercise and errands after school let out. (PS – those are 6 hour work days, in case ya didn't notice.)
I have LOVED being there for my kid before and after school – a privilege that so many folks can't usually enjoy.
Now that my kid is older, I wake up and read a book with my coffee. I go for a long walk or tune into a YouTube yoga class or pretend like I know what I'm doing at the pilates studio. Then I start work around 10:30. Heck, I'm writing this at 11am on a Saturday because he's a teenager and he's still sleeping.
I didn't work Fridays at all this summer. I've taken SEVERAL weeks of vacation. We're looking at a house in another country.
Other people embrace their night owl nature and work 3-midnight.
Some folks, like the owner of my nail salon, want a weekday off to grocery shop or whatever without the crowds, so they trade Sundays for Thursdays.
I've heard of people who make all the money they need for the year starting in January and as soon as they hit their financial goal, the rest of the year is totally off.
And this is all aside from the new digital nomad model where you literally take your computer and work from the world's best coffee shops.
I'm just throwing out ideas here, to help you dream.
How you shape your day and your life is up to you.
That's the kind of flexibility and freedom you get when you're the boss.
But listen: The only way you can afford to work 4 6-hour days per week and take off as much time as you want and work from anywhere in the world is to be highly focused and self-disciplined in the time you are on the clock.
I can't spend that time scrolling IG, hopping on every latest trend. I have to give my sole focus to the actions that keep my business strong.
With freedom comes great responsibility.
So, my friend, what will you do with that freedom? What's the thing you want to have space for in your day or your life, that entrepreneurism can bring you?
For you seasoned entrepreneurs, what have you enjoyed most about that flexibility? Or did you forget that you're the boss?
I can't wait to hear what you have to say. Email me.
There's joy in that freedom. Let's find it.
Your Limit is Five Projects
Breaking News: You can only handle 5 projects at a time.
New research out of University of Liverpool reports on analysis of 9,649 data points and it's showing that when you get beyond 5 projects, you start to lose your mind and burn out.
Isn't that incredibly helpful information?
Or am I the only one that finds comfort in being data-driven?
5 projects at a time. That's it.
So here's how I'm using this idea to plan for an ever calmer, more sustainable 2023.
As usual, I made my grid for the year, blocking out each month in a 6 x 2 matrix so I can plot out my projects and anticipated income.
In previous years, I'd just cram each month's square with all the projects I committed to and their associated revenue so I could track my monthly dollars and see the balance of my work across the year, on one page. Helpful, to be sure.
But this time around I made an adjustment: Each month is now a numbered list, 1 to 5.
Each workshop I book will fill one spot. Each consultancy. When the 1-5 has been filled for a month, I make a little x to show it's full. Then I tell clients "Oh sorry, May is booked. My next opening is in June."
And when I can see the whole year like this, I can also plot out unpaid events I know I'll have.
For example, here's my Fall 2023: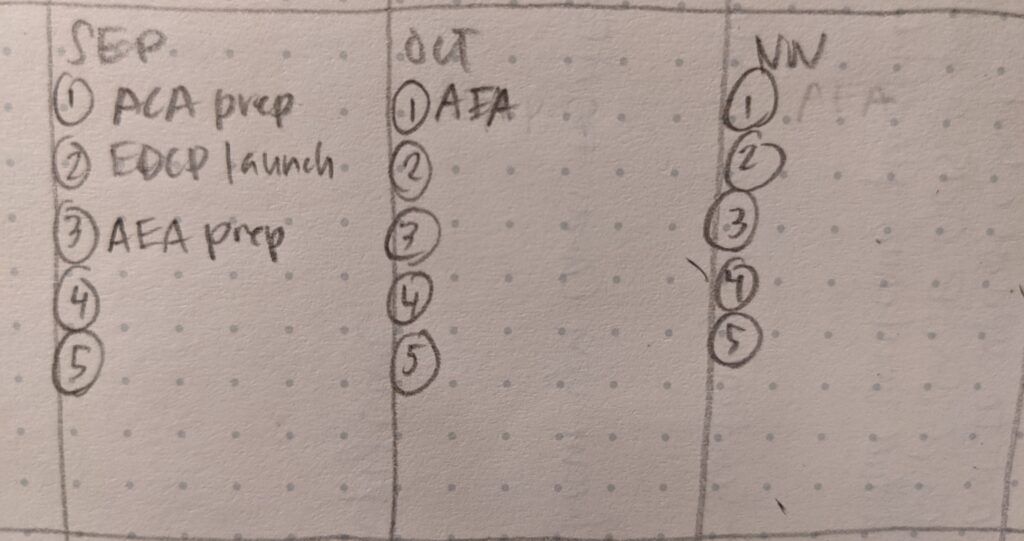 Usually my massive conference is held in November, where I market and network and make new friends and clients and hug all my people. It's the best.
It's also a whole project. It typically takes up one spot for November.
But next year they've moved it to October.
Which means my prep will happen in September, when I'm getting my talks together and planning the parties I'll host at the conference. Whew.
September is the same time I'm launching a course and prepping for the launch of another course.
Now I can look at September and recognize, months in advance, that I won't have much time for paid work. I won't overbook my September because I can only do 5 things and massive conference prep is definitely one of those things.
This means, if I'm following the 5 projects philosophy, that I have to take on one less paid project in September, in order to plan for one less paid project in October.
Gosh, that conference starts to take on a different sized budget.
Better make sure I'm working my ass off to get the most out of that conference experience.
The holidays take up one spot in December. Not even work-related but it takes up a whole spot. Because the more I thought about this five project limit, the more I realized it isn't just about work.
Got a fresh baby? That's one or two spots on every month until your kid is 3.
Dealing with an aging parent? Fill in a spot. Or three.
Old Stephanie would have scoffed a bit at this research. Like "oh yeah the average person can only handle 5 projects, but me? I'm freakin good at this. Bring it on."
Old Stephanie burned out. Repeatedly.
Health is recognizing the limits of our capacity.
We can put a lot of pressure on ourselves (and each other) to be more, achieve more, ever ever more more. And even if we have wised up to the fact that ever more isn't sustainable, you're just left wondering, well, what is?
It's five.
Now we know.
Ok, ok. One research study isn't enough to warrant such strong words like knowing something.
But I'm going to run with this framework for a year and see how I feel.
Conversely, some students in Boost and Bloom, who are just starting out on their own, are struggling to juggle more than one project at a time. Like, your brain hyperfocuses on making sure this one project doesn't go off the rails.
Let this research be an encouragement to diversify your portfolio a little.
Small projects count. The researchers point out that part of the burnout comes from the administrative time and energy to run a project, no matter its size, and the task-switching between projects that sucks your brain.
So for people who only have one project in their laser beam and need to broaden their scope, small projects count.
And for people, like me, who need to rein it in and lower their project number, small projects count.
May we see this restraint as freeing.
In January, my 5 will be:
A two-day workshop with National Science Foundation
Dashboard development work with the City of Chicago
Coordination of a workshop with one of my staff for Centers for Disease Control and Prevention
Prepping for the re-launch of my one-on-one data viz coaching program, opening in March
Final prep for re-opening Boost and Bloom (I'm so excited!)
What are your five? Email them to me.
How to Fire a Difficult Client
The first time I had to fire a difficult client, my pits sweated right through my shirt as I was composing, backspacing, and rewording that email.
Look, we're gonna to do our best to make sure we don't ever end up in this position, but sometimes you have to fire a difficult client.
I encourage you to do this at the second sign of inappropriate behavior. For the most part, I'll give people grace on their first asshole comment, late payment, or questionable Zoom background.
But the second time?
Cut your losses and get out.
You don't necessarily even need to have a clear egregious error. Sometimes you just drift apart. You've got a 5 year contract and 2 years in you've decided you want to shift your business focus.
Instead of providing a full suite of graphic design services, you're pivoting into the niche of writing each wedding guest's name in calligraphy on individual grains of rice that they'll chuck at the happy couple. Totally cool.
Pivots happen all the time.
The bottom line is don't do this:
Even if you really really really want to.
When you recognize it's time to part ways your first stop is your contract. Whip that baby out.
It's gonna have a section on cancellation. The most common clause I see says that the contract can be cancelled by either party with 30 days' notice.
Ok, cool.
Email your client and say… whatever you want. But not too much. Unless you want to.
Crystal clear?
My point is you aren't obligated to say much but if you've had a good relationship and want to preserve it, you can provide some detail.
How to fire a difficult client:
You can be as efficient as "Hey there – It breaks my heart to do this but I need to sever our partnership. Our contract asks for 30 days' notice – please consider this the notice. I'll continue to give my best on this project in that time and I have someone in mind I'd like to transition you to if you want a recommendation."
You don't have to mention calligraphy on wedding rice.
You also don't need to provide a recommendation if your client is a jerk. Because the colleague you're recommending doesn't deserve that behavior either.
If they've specifically breached the contract in some way, you don't have to wait the 30 days either. You just need to point to that clause in the contract, like "Todd, when you commented on the size of my butt at last week's meeting, it was a breach of the sexual harassment clause of the contract, which is cause for immediate cancellation. I'll be sending my final invoice over shortly."
I've been in less clear situations where I had to say something like "The ongoing reshuffling of my scope and responsibilities is making it impossible for me to fulfill the obligations laid out in our contract. Further, I need to be able to trust a partnership – that's how we plan out our business strategy. This partnership is not working for our business model any more."
Copy/paste these as much as you need.
Take a deep breath and hit send.
And if you've loved these folks, consider shipping them a parting gift of wedding rice.
Do not forget to send the final invoice.
Sometimes we don't review our contracts very carefully before signing and end up agreeing to a clause that's less fair, like one that says only your client is allowed to cancel. If that's you, still try one of these options listed above. Chances are that once you convey that you're unhappy, they'll also want to part ways.
If you're screening your prospective clients well, firing a difficult client will be rare (so bookmark this page for when you need it). I have to do it once every other year.
When it happens to you, it sucks but I'm here for ya. Email me and tell me what happened and how they reacted. We'll get through it together.
Just Start
I'm gonna pre-apologize right now. Cause this post from Sun Yi's Instagram is so accurate, it hurts.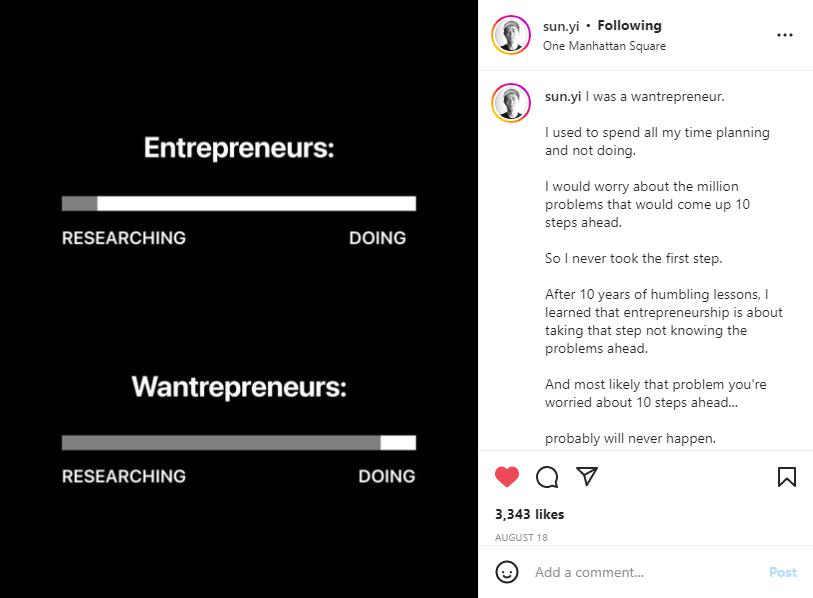 Let's say I want to buy a house in Portugal. It's been a lifelong dream and I finally feel like I'm in a place in my life where it could reasonably happen soon.
I'm absolutely not jumping on a plane and flying to Lisbon and buying the first house I see.
I'm going to read up on the rules of international house buying. Join an online ex pat community and listen in for advice on fun neighborhoods. Talk to my family.
Then – and this is THE MOST IMPORTANT PART – I'm going to start a conversation with a real estate agent in Porto. That's when it gets real. And that's the step we put off.
Because there's always more research to be done. Another influencer with the one tiny tip that'll make or break you – better keep scrolling. Right?
Honey, you'll scroll your whole life away.
The difference between being a wantrepreneur and an entrepreneur is in the balance you strike between researching and doing.
Stop researching and go get a client.
How?
How does anyone get clients? You sell yourself. Talk about your work. Reach out to people who need your services.
That's when it gets real.
Real scary.
"I want to be an entrepreneur, but I'm scared it won't work. I'm scared I can't do it."
For reals. Those are true legitimate feelings that don't fully go away, ever. It IS scary.
Now that we've settled that, can you view fear as that annoying colleague down the hall and just do your work anyway? Todd in Accounting as been training you for this for years.
There's just no other way around it. Put yourself out there and focus on getting clients first. You'll figure out everything else as you go.
"I don't know what steps are involved – better read yet another CEO's book."
Everyone's path is going to look differently but the one thing you can trust is that, once you start walking, the next step will be revealed to you.
I had just a couple clients under my belt when a prospective and I were emailing back and forth and she said "This sounds great. Do you have a website I can show to my team members?"
No ma'am I do not. But I'll have one up tomorrow.
The next step shows up at your feet if you just get started.
You build it as you fly.
"I need a lot more experience first."
Um, how do you think you get experience? You have to go get clients.
You might be thinking, who wants to work with someone so new? You wouldn't want a surgeon on their first surgery, would you?
I don't know about that. The best cleaning I ever got was from a dental hygienist who had just graduated. She was well-researched – no one could know more about the most current best practices. And her freshness made her sooooooo careful and detailed.
Listen, your experience will perfectly match someone's budget. Just go find your someone.
So yes, of course, you need to do some research. But instead of thinking that there's a research phase and then a doing phase, think about researching and doing simultaneously, back and forth, onward. Both at the same time.
If you want to actually reach those big dreams – that house in Portugal, that business empire, that award-winning YouTube channel – you have to switch to DO mode. Contact the real estate agent, connect to your first client, make your initial video.
Yeah, the first one will suck. So get it out of the way as fast as you can.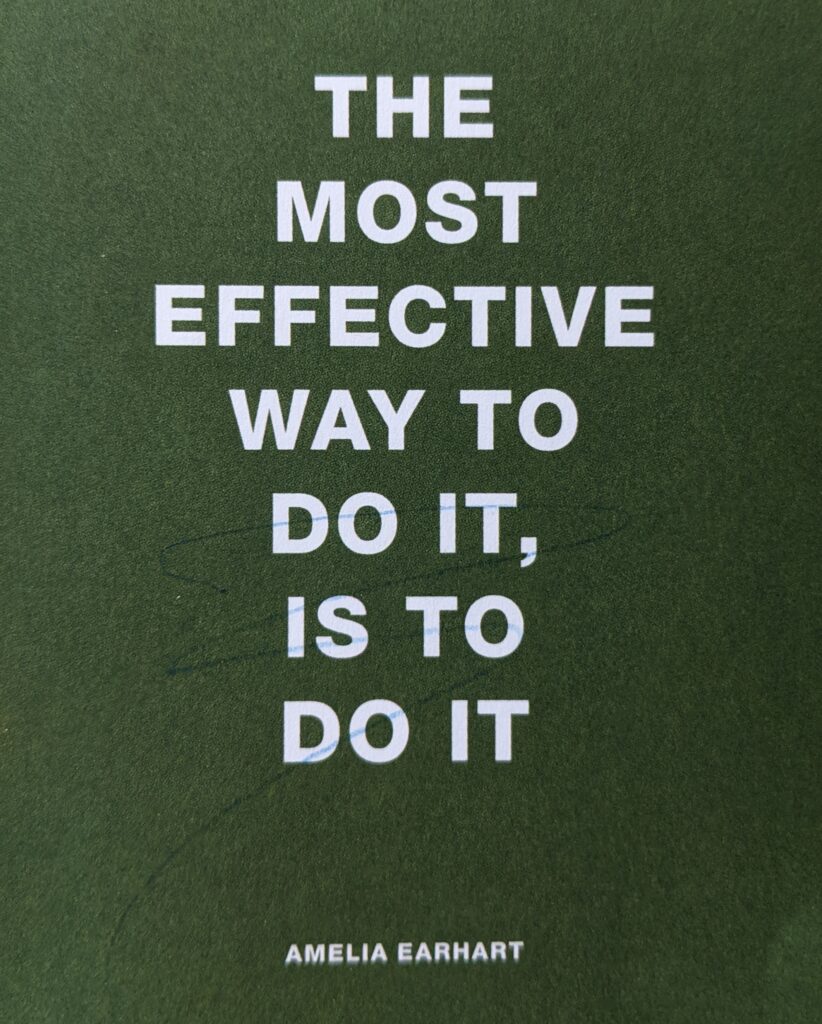 So, what's the next big thing you want to do? The thing you've had your heart on but haven't actually *done* yet? Hit me up for a little pep talk.
When to Disappoint Others
Here's a story about first time I got a gig through LinkedIn.
Jennifer worked at a ~~ prestige beauty company ~~ and needed a consultant to revamp the 100-slide PowerPoint about the state of the prestige beauty industry for their upcoming conference.
I said yes, even though (1) the deadline was tiiiiiight, (2) I don't really love doing this kind of design work, and (3) I don't know jack about the prestige beauty industry.
The pay was structured as a flat dollar amount per completed slide.
Jennifer sent me the deck from last year that "just needed to be updated" (famous last words).
Each slide had at least 100 different elements on it – dozens of textboxes in 4 point font, photos arrays of expensive neck creams. I very quickly saw that the reasonable dollar amount per slide was going to equate to far under minimum wage, with all the work it would take to redesign even a single slide.
I spent a whole weekend in my office, cranking out remakes according to what I knew to be best practices for slide design.
Sent it off to Jennifer Sunday night.
She freakin hated it.
Her email was something like "this is not prestige, this is not elegant, this is not beautiful."
That hit me like a gut punch.
I took another shot at it, still without any real idea of what prestige, elegant, and beautiful would look like to Jennifer.
I'm sure I fell short. I sent off the next draft, which, at this point, was like the day before the conference. I never heard from Jennifer again, despite my follow up emails.
I had disappointed her.
The right time to disappoint her would have been back when she slid into my LinkedIn DMs. I should have said no. The project wasn't a good fit. The answer should have been simple.
Or, I could have asked for a sample slide so I could get a sense of the scope of the work. I woulda opened the sample slide, laughed out loud in my office, then politely declined the job – disappointing her.
What do those two opportunities have in common?
They come before the contract is signed.
The best time to disappoint someone is before you sign official paperwork.
We risk damaging our reputation and wasting everyone's time and energy when we don't engage in a thorough discovery phase before we ink signatures.
In order to honestly engage in a discovery phase, you've gotta know what work you will and won't do. What lights you up and what'll be a slog. Who you love to work for and who you don't need to support.
Those distinctions are blurry at best when we're desperate for work or flattered by the ask.
You need clarity about your focus and purpose to enter into a discovery phase. (You also need a list of client red flags to look for.)
Most of us skirt this. Because we want to "remain open to new opportunities."
But clarity about your focus and purpose brings you strength and confidence.
You might think, what's the harm? You only lost one weekend of your life saying yes to Jennifer.
Not so, my friend. I lost my time, my energy, and I risked my reputation. And as an entrepreneur, time, energy, and reputation are all you've got.
So now I know better. I asked for a sample to get a sense of the scope. It's part of my discovery process.
Let's trade stories. How did you disappoint a client, after the contract was signed? And what changes have you made to your discovery phase as a result? Shoot me an email.
What You Call Yourself
In my early entrepreneur days, I looked up to Amy. She owned a thriving one-person consulting business, seemed in a happy relationship, had her shit together. I needed to be like Amy.
So one day I emailed her and asked the super important question: What title do you use?
And here's what she said back: Principal.
Me: Principal?
Amy: Yep. That's the official name for someone who owns an LLC.
Me: …
Honey, I come from an education background, so, to me, Principal means a specific person who smiles a lot but is actually judging the way you dismiss your kids to recess.
Even if I switch contexts to entreprenuerism… Principal? There's no pride in that.
Then I remembered that dear sweet Amy also uses the word "persons" to refer to people. Like, persons of color.
Listen, in some ways, it doesn't matter what you call yourself.
Pick anything.
Don't let this part stop you from moving ahead.
On the other hand, what you call yourself can bring you a sense of accomplishment and confidence. It matters.
I tried on Principal for about two months and quickly switched to Owner.
Then **Founder** cause that sounded so much cooler. And accurate. I don't just own this company, I created it from the ground up.
But Founder started to feel too limited. It didn't adequately describe what I do, only what I did.
I went through a cheeky phase where I switched seamlessly back and forth between a couple different titles: "The One and Only" and "Heavy Hitter." I mean, what title could possibly encompass all that I am and all that my business does? Might as well go big.
Heavy Hitter got attention. Prospective clients would message me on LinkedIn with compliments on the chutzpah behind that title. Damn right.
Instant swagger.
Ok but then I was signing contracts with Fortune 500s with the title Heavy Hitter. I felt like I was just three 12 year olds stacked up inside a trench coat trying to pass as an adult.
Now I sign contracts with CEO right under my name. CEO. That's what an official adult would call herself on formal paperwork.
On social, I switch up my titles from time to time. Usually, this is a strategic move to focus on whatever initiative I'm promoting at the moment. Like when I open up the Data Viz Academy twice a year. During those times, my title is "Founder, Evergreen Data Visualization Academy."
Your title can change depending on your current marketing strategy.
You aren't limited to one title.
I just politely request that you don't call yourself freelancer.
So, hey, what are you calling yourself right now? Drop me an email with your current title.
Staff job titles are also important.
So before we wrap, let's address this too.
The positions you create in your company aren't just for you. They'll be fulfilled by humans who will need to know what to call themselves, too. Humans who will at some point look for other employment and will list their role in your company on their resume.
The name of the role on their resume will be a factor in the salary the next company offers to this lovely human who worked for you.
A person with "Senior Research Associate" is going to get a higher initial offer than someone with "Junior Associate" or just "Staff" (because you never gave them a title).
It's a revolutionary act in this world to create titles that accurately reflect the skill and experience the position requires such that your staff person is on the best footing possible when they leave. Doubly important for people of color and white women who have historically been underpaid, undervalued, and underpromoted.
Everyone at Evergreen Data is a Senior something.
Titles are a big deal. And also a small deal. Change it as much as you want.
Signs You Can Quit Your Day Job
THE LEAP! The leap feels so big. Quitting your day job to launch your own empire is full of so much anxiety, fear, curiosity, hope, and thrill.
Most of us aren't equipped to sort through that many emotions, all happening at the same time. It's like the Jungle Juice from your college years. And most of us weren't equipped to handle that either.
So, while there's no one path to entrepreneurship, let me help you sort out when you'll know you're ready to take that leap.
Money & Insurance
The biggest burning questions I get in my DMs are fears about money and insurance.
If you're in the position to stay in position, do it. By that I mean, if you're able to stay in your day job while you grow your empire on the side, that's the most stable situation. Yes, it'll mean you're sacrificing some nights and weekends but if you're just rewatching Breaking Bad again, you won't lose much.
When you're earning 75% of your day job salary through your side empire, you're in a position to walk.
I mean, I walked without having much lined up. People do it all the time. But ideally you've built enough of a bridge to make the leap more like a hop.
You only need to get 75% of your salary covered because once you take the leap you'll have a lot more time on your hands for business development to get you to 100% +.
The + also includes covering your insurance, which is probably the #1 block for people in the US who have to suffer through employer-based insurance programs. It'll become a cost of doing business. You can handle it. But now's the time to research how much you'll be paying and add this cost to the list of expenses you'll incur regularly (you'll use that list to help you figure out your pricing).
Thing is – people get jungle juice feelings about money and insurance but it isn't the first thing to sort out.
Offer/Service/Product
What the hell do you sell, Honey? You have to start here.
What do you offer in exchange for money? Usually it's some kind of product or service. To make a successful leap, you've gotta articulate exactly what you sell and package it up in a way that potential buyers can clearly understand.
It's one thing to say "I'm a stylist and I'll tell you what to wear." Dime a dozen.
It's waaaaay more attractive to say "I've got a curated box of clothes in your size and style that I'll mail to you once a season." THAT I would buy. It's packaged. Ok, literally – a box of clothes – but conceptually too and that's the more important part.
And even more important than that is the underlying mechanism you develop to actually deliver the offer. You can't just *say* you sell a box of clothes, you have to actually set up the processes by which you'll find out what customers want, establish relationships with stores, think through the packaging (physical this time – the cardboard box you'll mail).
You need the idea, plus the processes to make the idea happen. Figure that stuff out first.
Client Demand
The second thing you need in order to quit your day job, right after the idea and process, is the clientele. Almost everyone has their first clients long before they get their first logo.
Client demand can start out small – like, you told your idea and process to a friend, who told a friend, who wants to work with you now. Even if you aren't ready yet, that counts as client demand.
If you find yourself saying no to some potential work because you're out of hours in the day, that definitely counts as client demand and that's how you know you can walk… or leap.
(By the way, I used these same signs to help me navigate my process of cutting out some income streams that I don't like and leaping over to others that bring me more joy – uh, like Boost & Bloom. This ain't just for the newbie entrepreneur.)
A strong, sustainable empire will also require branding and marketing and systems and strategies and you'll build all of that as you go. Don't worry about it now. Just get product, demand, and money sorted out and you'll be ready to quit your day job.
Being Strung Along
The thing about being strung along by a "potential client" is that you often don't know it til it's too late. Let's look at what happened to a couple of my students and let their hindsight become your foresight.
No work without a contract.
Sometimes we make it easy to string us along. Like when we agree to work we wouldn't normally do, for the promise of a future contract.
One of my previous mentees (let's call her Trudy) accidentally set herself up for being strung along. She realllllllllly wanted to partner with this organization. It woulda been a big fish to add to her portfolio.
In her early conversations with her point of contact at this org, they seemed super eager to work together. So much so, that the client asked Trudy if she'd be willing to jump in on some small tasks (warning sign #1) at a low (warning sign #2) hourly rate (warning sign #3).
Trudy didn't know me then, so she said yes. The client said it would just be temporary while they write up the bigger contract and get it in place.
Did Trudy ever advance beyond low wage task labor?
No my friend she did not.
And she was too embarrassed about the scope of her work there to ever include this client in her portfolio.
The client doesn't know what they want.
Another student of mine (code name: Blanche) got stuck in a months-long string-along with a potential client because of "decision by committee."
Similar to having too many cooks in the kitchen, decision by committee is an excellent way of slowing progress to a casual stroll through I Don't Know What Do You Think Land. Have you and your partner ever entered into starvation because neither of you could decide what you wanted to eat for dinner? Like that. But with ten partners.
Blanche had a typical initial meeting with this client to lay out the possible solutions she could offer to the problems they were experiencing. They seemed to have come to agreement about the way forward. Blanche went home and waited for a contract.
And waited.
Blanche checked in but by this point, the finer details of the conversation had been lost, so the potential client asked Blanche to write up the plan in a proposal (note to Future Blanche: Write and send the proposal immediately after the initial meeting.)
Blanche sent the proposal and waited.
And waited.
When she checked in again, the potential client said the team needed to really think about whether the proposed solution would solve the right problem. Could Blanche meet with the whole team and help them talk through their problems?
I'm gonna skip to the end of Blanche's tale: Blanche dealt with so much waffling you'd think she could open an IHOP franchise. This client liked the idea of working with Blanche (or, at least, of having a consultant) but couldn't ever make a decision about where to start.
I actually suspect they didn't have the funds to invest in the right solutions but didn't want to say that to Blanche's face, so they just let it playyyyyyy out.
Look, some clients really do take months of nurture before the project comes to fruition and you get that sweet contract in your hands. You've gotta relationship build. They've gotta convince some team members to swipe right on you. Procurement processes and vendor onboarding – the creepy evil twins staring at you blankly at the end of the hallway of consulting life – can take a long, long time.
You've gotta learn how to tell the difference between when they really do need time and when they're stringing you along. Here's how I tell:
Check-ins should advance the plot.
If you're not hearing a reply after you send a check-in email, wait a week and send another. We all have those weeks from hell where we can barely breathe. But if you don't hear anything after the second check-in, move on with your life.
When you do get a reply, it should include some decision or action or next step with a date attached to it.
Like "My team and I have a meeting to discuss this project next Tuesday and I'll get back to you then."
or "I have a few more questions. Can we schedule a Zoom to discuss?"
These are check-ins that advance the plot.
If your check-in gets a reply like "Thank you for checking in!" or "We're still thinking about it." you're being strung along and it's time to walk on by.
Client Red Flags
"What would the price be if we took out the graph makeovers?"
When I hear this question, I run for the hills. I've learned to recognize this request as a giant red flag.
This question reflects a potential client who is gonna be a complete PITA (while most business acronyms are ridiculous, this one is important: Pain In The Ass). And I do not want to work with PITAs.
Just like I didn't want to date jerks. It can be hard to know who's a jerk at first, right? Everyone's got maximum charm and best behavior at the beginning.
But once you get burned, you (and your friends) look back at those seemed-benign-at-the-time comments like "I'm such a feminist – I love women!" with fresh eyes. Hindsight teaches you to recognize red flags.
Same with clients when we get burned.
Collect the lessons and form a red flag checklist.
We each have to DIY our own red flag list. But let me seed yours, ok? The question a potential client posed at the top of this post about what the price would be…. that's nickel-and-dime behavior.
Here's what isn't: "Do you have any government or non-profit discounts?" That question is harmless.
First of all, it's common. Many places DO offer government and non-profit rates.
Second, I respect the fiduciary obligation to inquire about a deal. I get it – we've all got budgets. Doesn't hurt to ask. Reminds me of the way my grandma looked her budtender right in the eye and asked if he had a senior discount. The chutzpah.
But this question: "What would the price be if we took out the graph makeovers?" is different. It's saying "Even though you've developed a well-thought-out workshop package designed to increase our data visualization capacity as much as possible, can I take it apart bit-by-bit?" Nope.
You don't have to listen to my experience, if you're interested in playing with fire.
Let me tell you what happened after I said YES one time. YES, we can take out the graph makeovers and lower the price. You know what came a week later?
"Well, what would the price be if we took out access to the Data Visualization Academy, too?"
Run, my dear.
Because the next step will be a request for an hour-by-hour account of your work.
And not only is that a nickel-and-dime situation that breaks the high-quality package I've pulled together, it's micromanagement. This client is gonna be a PITA.
Yes usually comes from a place of fear. No comes from a place of strength.
It isn't worth the pain.
My friend Toby made me write down my dating red flag list. He'd pull it out over IPAs in the pub, when the occasion was right. When I was about to make a bad decision and repeat a mistake.
You may need to do the same for your client red flag list. Share it with someone else who can keep you accountable to the higher standards you're setting for yourself. Write to me with your list and compare yours with that of another entrepreneurial friend.
Your red flag list is how you create boundaries. It's how you generate an empire where the atmosphere is respect. It saves you from stress headaches and new gray hairs. It's peace.
Books Are Not Lucrative
My editor is in my inbox. Again. She gently prods me a couple times a year about writing another book. Or updating an old book. Or writing anything besides newsletters, really.
I'm so resistant.
Writing a book was such a "Should be on my bucket list" notion back when I was in grad school. Before I published a book. Before I knew how much work it would be.
When I was contemplating whether to write it, I was in Indianapolis at a dinner for the keynote speakers of a conference. I was deliberating about this with another keynoter, who told me "Books are your best business card."
He handed me a copy of his book (yes, he carried copies).
He explained that the book itself won't make you much money.
Royalties are crap.
Way more recently, I saw this tweet, which validated that things haven't changed much since then.
By contract, my royalty payments amounted to 14% of sales. Just 14%. For writing the whole damn book (and doing most of the promotion, I might add).
So Mr. Keynoter was saying that the book won't make you money. But it will open the door for bigger opportunities. You'll be invited to give keynotes and workshops. You'll be asked to consult. You can immediately double or triple your prices.
All of those things are 100% true. Publishing a book will not make you rich. You aren't Stephen King. You don't get advances. You'll wait years – literally – after signing the book contract before you'll see your first royalty check and it'll be nice but you can't quit your day job on those dollars.
Writing a book makes you more visible. So if it's something on your bucket list, the moment you send the manuscript to your editor, you need to start preparing the services (workshops, keynotes, etc) you'll sell to your new audience.
Books aren't lucrative.
The opportunities you get from publishing are.
Of course, not everything has to be lucrative. You can write for the pure joy. You can write because you have something to share with the world.
But you don't need a book to do those things.
See, Mr. Keynoter was advising me at that dinner back before social media became A Thing. Before anyone could start a podcast or a newsletter and grow a following of thousands. Pre-Tik Tok.
15 years ago, books may have been your best business card but now your social media could be even better.
If you want to write, start writing.
Don't wait for the book deal. Your social media or blog or podcast will likely be the thing that attracts a publisher anyway. So just get to the writing.
Your writing, no matter where you do it, will open up opportunities that make you a lot more money. Writing a book takes months to years of intense focus, patience, and organized thought. Most people underestimate the amount of time and energy required. If you put the same time and energy into your podcast/newsletter/Tik Tok, you'll get the same opportunities.
If, after reading all of this, you still want to write a book – awesome. Prepare for the opportunities. Get your promotional house in order. Keep writing – that online course, that pitch deck, that story for Forbes.
Once you see that career growth doesn't come from the book itself, but from the promotion and offers that stem from the book, you might even consider a popular route among many authors I know – self-publishing. Where you keep 100%, not just 14%.
Two Phrases Every Entrepreneur Should Know
Would you take a wine recommendation from a teenager? Of course not. People want to partner with someone who has experience.
Which is why the question Tom sent me is so common among those of you considering entrepreneurship: "How much experience would you recommend having before going it on your own doing the consulting route? Do I need to consult beforehand?"
Though it might look like it on the surface, this question is not just for newbies.
Seasoned entrepreneurs who want to expand their empires into new (and perhaps more lucrative) markets run into this same issue.
People pivoting to new fields, despite a decade of experience, face the same fear.
No matter how long you've been on the block, you need two key phrases in your entrepreneurial vocabulary:
"In my experience with similar situations, I recommend…"
The purpose of this phrase is to convey confidence to your clientele. You can be trusted. You've done this sort of thing before.
All this means is that you need enough experience to say I've seen this.
You don't have to have that experience in the same industry you're trying to break into right now. In fact, your cross-industry experience is an asset.
You don't have to have that experience through paid work. Real life grad school projects or free time portfolio development exercises absolutely count here.
But the truth is that even though I've been in business for a dozen years and I like to think I've seen it all, a client will still surprise me every once in a while. That's why you need this second key phrase:
"I haven't run across this yet, but I have some ideas and I'll do some research and get back to you."
You don't need to know e-v-e-r-y-t-h-i-n-g but you do need to have the unwavering faith in yourself that you can figure it out.
Talented entrepreneurs can find the answer even if they don't have it right now. They're resourceful. They're also timely – you'll get those ideas back to your client within 48 hours.
I've seen the experience question hold too many would-be successful entrepreneurs back from starting their empires.
How much industry experience did you have before you launched your business? Click here to tell me in an email. My hunch is that it'll be a very wide range. The path into entrepreneurship has 1,000 different entry points.